Match#: 192516
Intern Positions: 2
About This Rotation
Interns at this site will spend one, two, or three days each week at the office in Rolla, Missouri. The amount of time spent outside of Rolla depends on other placements. At this location interns do traditional outpatient therapy with individuals, couples, and families, psychological assessments, and triage for walk-ins.
Once matched, interns and primary supervisors/Training Director will discuss rotation and experience preferences based on available positions. An average of 20 intervention hours per week is expected and a minimum of ten psychological evaluations are completed during the training year. Not all interns decide to participate in the same learning experiences or supervision opportunities. Psychology interns at Compass Health sites utilize both hands-on training as well as web-based training programs. The agency offers a full training library of web-based programs for the interns and staff to access as they are able based on their licenses/interests. Interns are provided with their own office space complete with computer and access to the internet and printer. Each location is equipped with the testing and training materials necessary for the interns to complete the requirements of their training year.
It should be noted that Rolla is approximately two hours from Springfield, Missouri, where interns must travel to quarterly in-person didactics (plus orientation). Due to the distance, interns will be provided up to $175 in travel reimbursement considerations for each of these trainings.
Training Opportunities
Primary experiences at this site include:
Outpatient Therapy (Individual, Couples, Family, Group)
Psychological assessment with children, adolescents, and adults covering a wide range of referral questions
Dialectical Behavior Therapy (DBT) consult team, skills group, and individual therapy
Integrated Dual Disorder Treatment (IDDT)
Navig8 Adolescent Substance Use Disorder inpatient treatment— individual or family therapy, groups, and assessments.
Additional training opportunities that may be available include:
Triage
Parent-Child Interaction Therapy (PCIT)
School-based therapy at Wyman Elementary in Rolla – brief interventions (20-30 minutes) of focused therapy with children; work with their families/school team; and occasionally perform/score/interpret assessments.
Federally Qualified Health Center – an integrated healthcare setting where interns provide consultation to primary care providers; brief interventions for clients (20-30 minute sessions); and the focus is behavioral management and lifestyle changes. Motivational interviewing and health psychology are used frequently with this population.
Rotation Schedule
Interns with Compass Health will generally work a Monday – Friday schedule from 8:00 am – 5:00 pm each day. No weekend work or after-hours on-call is required. Interns at this location will spend one, two, or three days per week in the Rolla office and the rest of their time at external experiential locations. This schedule will vary based on intern interest and need.
Example Schedule
Monday

Tuesday

Wednesday

Thursday

Friday

Individual Therapy
(Sullivan)

Individual Therapy
(Sullivan)

Psychological Assessment
(Sullivan)

Psychological Assessment
(Sullivan)

Report Writing (Sullivan)

Report Writing (Sullivan)
Please note that not every experience is identical and site schedules are a general guideline. Interns may be required to make themselves available at other times as needed. What is provided above is an example of what the work week might look like for an intern at this site.
Placement Locations
For more information about services provided at these locations see the following links:
Title
Address
Description
Link
APPIC Training Experiences
Treatment Modalities
Supervised Experiences
Most commonly seen diagnoses at this office location include ADHD, major depressive disorder, anxiety disorders, PTSD, various personality disorders, Autism Spectrum Disorder, a variety of psychotic disorders, and substance use disorders.
Patient Populations

Most Compass Health clients are Caucasian, chronically mentally ill, and/or lower SES. Some locations closer to larger cities also serve a diverse range of ethnic groups, with higher levels of education and SES. Compass health clients often manage barriers such as transportation, cost, and childcare. Typically, our areas served do not have public transportation, and thus the cost of a vehicle and gasoline, as well as car insurance, can cause difficulty. In addition, many of our clients do not have access to affordable childcare, which is also a barrier to them receiving treatment. We serve clients across the lifespan with respect to therapy and assessment. The following table shows a breakdown of some patient demographics at the Rolla Compass Health office within the last year, though this does not include client populations from external sites such as schools or FQHCs: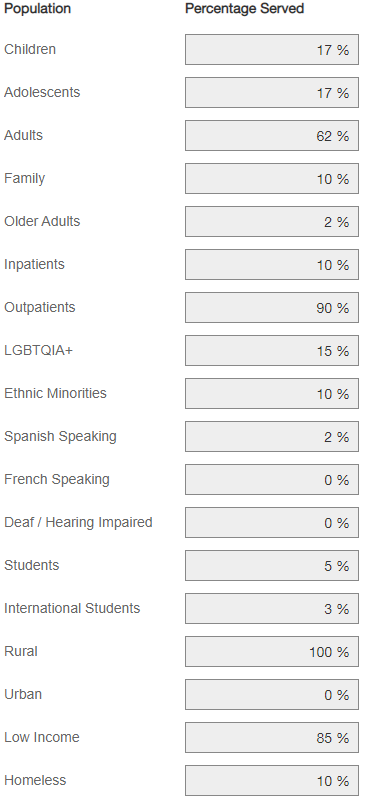 Our Supervisors
While we won't know your exact supervisor assignments until the internship starts, these are examples of some of the individuals you may work with over the course of your year at the site. 
Sarah Lea, Ph.D
Dr. Lea earned her doctoral degree in Psychology in 2018 at Oklahoma State University. She completed her internship and post-doctoral residency at Compass Health Network in Rolla, MO. She has training and experience in a variety of settings, including community mental health, residential treatment, academic medical centers, schools, college counseling centers, and FQHC. Dr. Lea has specialty training in child psychology and has co-authored 11 peer-reviewed publications focused on cognitive deficits associated with Attention-Deficit/Hyperactivity Disorder. In addition, Dr. Lea is a certified PCIT therapist, co-leads adult and adolescent DBT groups, and has specialty training in psychological assessment across the lifespan. She also has experience and interest in teaching, training, and disseminating academic research to staff and students. Dr. Lea's theoretical orientation is cognitive-behavioral/behavioral.
Deborah R. Frost, Ph. D.
Vice President of Regional Corporate Services – Southeast
Dr. Frost earned her doctoral degree in Psychology at West Virginia University. She completed her internship at Harvard and her post-doctoral residency at Wisconsin School of Medicine. Dr. Frost came to live in Rolla in 2001, and began working as a psychologist until she later took on the role as Director of Clinical Training and Special Projects. She currently serves as the Vice President of Operations for the Southeastern Region of Compass Health Network. She is uniquely suited to provide supervision in clinical and career path issues. She is a behaviorist, and has training in Medical and Geriatric Psychology, DBT, and PCIT. Dr. Frost has been supervising pre-doctoral interns and post-doctoral residents since 2002.
Nicole Dorio, Ph.D.
Dr. Dorio earned her doctoral degree in Psychology in 2020 at Northern Illinois University. She completed her internship at Compass Health in Rolla, MO and Post-Doc at Compass Health in Rolla and St. Robert, MO. She has training in schools, community mental health, partial hospitalization, and FQHC. She has specialty training in school psychology, PCIT, DBT, and psychological assessment. Dr. Dorio's theoretical orientation is cognitive behavioral, heavy on the behavioral.
Life in Rolla
Rolla is a city of approximately 20,000 people located approximately midway between St. Louis and Springfield on Interstate 44. It is also the location of Missouri University of Science and Technology, a school well known for its engineering and computer science departments, as well as its annual St. Patrick's Day celebrations.
Travel/Weather: Rolla is nicely sized, and you can get almost anywhere in 15 minutes depending on traffic. The weather is similar to Columbia, as they're not far apart – lows hit below freezing in January with snow, and highs hit 90 degrees in July with a lot of humidity.
Places to Eat: As a college town, Rolla has a wide variety of food options. You can get Mexican food at El Maguey, a slice of pie at Slice of Pie, coffee at the Giddy Goat, and many more! Just about all types of food are represented somewhere in Rolla.
Things to Do: There are tons of activities going on in Rolla no matter the season. In warmer months, there are outside activities like the Audubon Trail Nature Center, Ber Juan Park, Popeye's Putt & Play, SplashZone Waterpark, and Fugitive Beach. In the winter months, you can see a movie at the Forum 5 Cinema, solve the puzzles to escape from Great XScape escape rooms, or go bowling. Find out more at visitrolla.com!