Match#: 192517
Intern Positions: 3
About This Rotation
Interns at this position will spend all their time at the office in Wentzville unless an external experience is chosen, such as working in a school. At this location, interns do traditional outpatient therapy with individuals, couples, and families as well as psychological assessments. Triage experience may also be available. Interns are provided with their own office space complete with computer and access to the internet and printer. Each location is equipped with the testing and training materials necessary for the interns to complete the requirements of their training year.
Wentzville is located only 40 minutes west of St. Louis, Missouri, which offers many opportunities for entertainment and activities. However, it should be noted that Wentzville is approximately 3.5 hours from Springfield, Missouri, where interns must travel to quarterly in-person didactics (plus orientation). Due to the distance, interns at this location will be provided up to $175 in travel reimbursement considerations for each of these trainings.
Training Opportunities
Primary experiences at this site include:
Outpatient Therapy (Individual, Couples, Family)
Psychological assessment
An average of 15-20 intervention hours per week is expected and a minimum of ten psychological evaluations are completed during the training year. Not all interns decide to participate in the same learning experiences or supervision opportunities. Services provided range from brief individual, marital, or family counseling dealing with issues such as depression and anxiety to long-term care and support for adults with serious mental illness and children with serious emotional disturbances. Psychology interns at Compass Health sites utilize both hands-on training as well as web-based training programs. The agency offers a full training library of web-based programs for the interns and staff to access as they are able based on their licenses/interests.
Additional training experiences that are subject to availability include:
School-based therapy
Behavioral Health Consultant (BHC) within primary care
Dialectical Behavior Therapy (DBT) consult team, skills group, and individual therapy
Triage/crisis
Rotation Schedule
Interns with Compass Health will generally work a Monday – Friday schedule from 8:00 am – 5:00 pm each day. No weekend work or after-hours on-call is required. Interns at this location will spend all their time in the office at Wentzville. This schedule will vary based on intern interest and need.
Example Schedule
| | Monday | Tuesday | Wednesday | Thursday | Friday |
| --- | --- | --- | --- | --- | --- |
| | | | | | |
| | | | | | |
| | | | | | |
| | | | | | |
| | | | | | |
| | | | | | |
| | | | | | |
| | | | | | |
| | | | | | |
Please note that not every experience is identical and site schedules are a general guideline. Interns may be required to make themselves available at other times as needed. What is provided above is an example of what the work week might look like for an intern at this site.
Placement Location
For more information about services provided at these locations see the following links:
Title
Address
Description
Link
APPIC Training Experiences
Treatment Modalities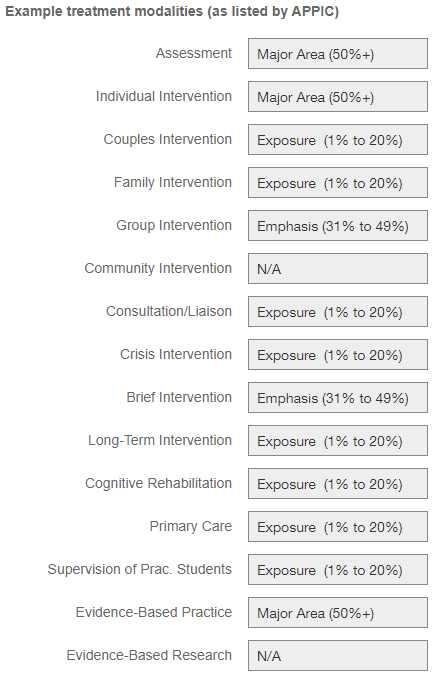 Supervised Experiences
Most commonly seen diagnoses at this office location include ADHD, PTSD, major depressive disorder, anxiety disorders, various personality disorders, a variety of psychotic disorders, substance use disorders, and Autism Spectrum Disorders.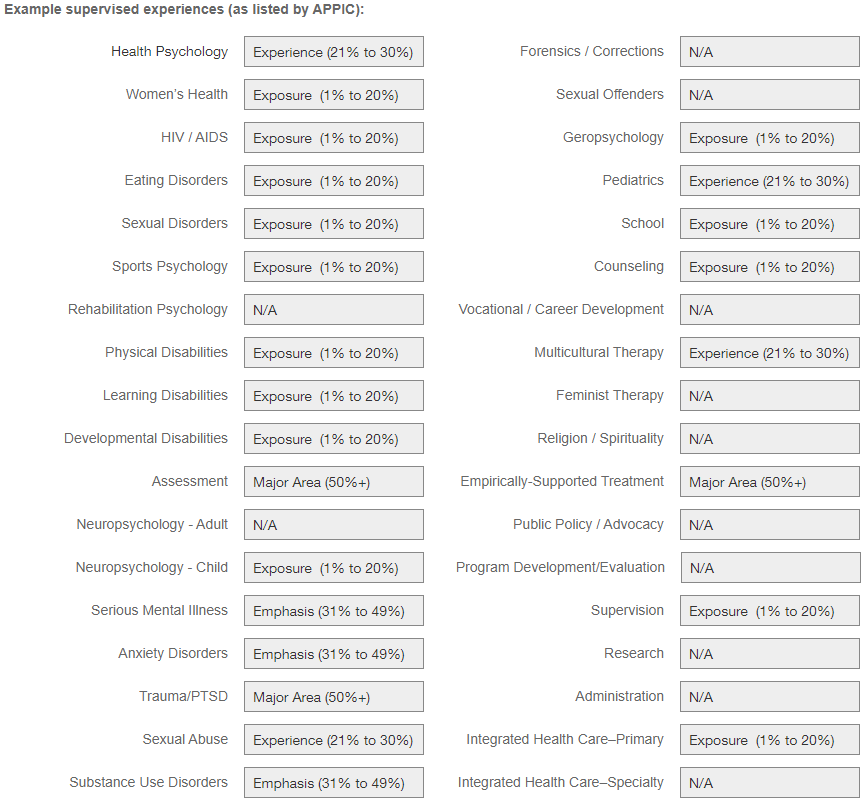 Patient Populations

Most Compass Health clients are Caucasian, chronically mentally ill, and/or lower SES. Patients at our locations often manage barriers such as transportation, cost, and childcare. Typically, our areas served do not have public transportation, and thus the cost of a vehicle and gasoline, as well as car insurance, can cause difficulty. In addition, many of our clients do not have access to affordable childcare, which is also a barrier to them receiving treatment. The Wentzville location is closer to a larger city, and as a result serves a more diverse range of ethnic groups, with higher levels of education and SES. We serve the lifespan with respect to therapy and assessment. The following table shows a breakdown of some patient demographics within the last year in the Wentzville office: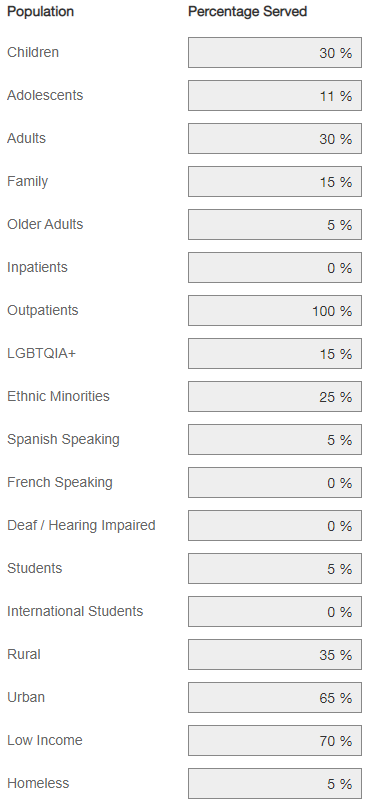 Our Supervisors
While we won't know your exact supervisor assignments until the internship starts, these are examples of some of the individuals you may work with over the course of your year at the site. 
Melissa Webb, Psy.D.
*Director of Clinical Training 
Dr. Melissa Webb is a licensed psychologist who has been with Compass Health since 2016. She earned master's and doctoral degrees in Clinical Psychology from Indiana University of Pennsylvania, and completed her internship and post-doctoral years with Compass Health (then Pathways Community Health). She has worked in a number of offices throughout Compass Health Network, with clinical work including therapy and a focus on psychological assessment for a variety of referral questions, including Autism Spectrum Disorder. Dr. Webb is trained in a variety of therapeutic modalities, with a preference for cognitive-behavioral and integrative treatment methods. She regularly provides supervision to psychology trainees in all stages of training, including practicum students, pre-doctoral interns, and post-doctoral residents.
Amy Meriweather, Ph.D.
Amy Meriweather, Ph.D.
Dr. Meriweather earned her Ph.D. in Clinical Psychology from California School of Professional Psychology – San Francisco in 1996. She completed her internship at Children's Hospital – Los Angeles, and her residency at Burrell Behavioral Health in Springfield, MO. She has experience across a range of settings, including leadership coaching, teaching, consulting, research, creation of various curricula for the community and professionals, health psychology, integrated care, and psychological assessment.
Taylor Montgomery, Ph.D.
Dr. Taylor Montgomery completed her Masters of Science degree at the University of Kansas in Counseling Psychology. She then attended Saint Louis University where she earned her Ph.D in Clinical Psychology with a research emphasis in health, performance, and sport psychology. Dr. Montgomery completed her pre-doctoral internship in St. Louis at the University of Missouri-St. Louis Psychology Consortium. Dr. Montgomery has a generalist training background and has clinical experience in a variety of settings including university counseling centers, athletic departments, business consulting settings, community mental health agencies, trauma centers, adult and child inpatient hospitals, and residential treatment facilities. Dr. Montgomery enjoys utilizing her skills in various activities including conducting individual and group therapy, administering psychological testing, supervising, and consulting. At Compass Health, Dr. Montgomery provides direct clinical services to clients through therapy and testing. She also provides supervision to pre-doctoral students and practicum students. Dr. Montgomery adopts an integrated approach that includes aspects from interpersonal therapy, emotion-focused therapy, acceptance and commitment therapy, CBT, and mindfulness.
Jaedyn Bonner, Ph.D.
Dr. Jaedyn Bonner is a postdoctoral psychology resident. Dr. Bonner completed her pre-doctoral internship at Compass Health Network during the 2020-2021 internship year. She received her B.S. in psychology from Howard University in Washington, DC in 2016 and went on to receive her Ph.D. in clinical psychology from Jackson State University in Jackson, MS in 2021. Dr. Bonner utilizes a Cognitive Behavioral Therapy approach with many of her clients while also utilizing multiple other theoretical orientations based on clients' needs. Additionally, Dr. Bonner has training in Dialectical Behavior Therapy (DBT) and is a co-leader of the Wentzville office's first adolescent DBT skills group. Along with CBT and DBT, Dr. Bonner has also been trained in trauma treatment approaches (e.g., Written Exposure Therapy) and continues to use evidence-based approaches for trauma treatment (e.g., Cognitive Processing Therapy). She also conducts psychological assessment with individuals across the lifespan for a variety of presenting problems (e.g., personality, cognitive, ADHD). Dr. Bonner also assists in the clinical and professional development of pre-doctoral interns and practicum students at Compass Health.
Life in Wentzville
Population estimates as of 2018 suggest there are more than 41,000 residents in the suburb of Wentzville, located in St. Charles County. It was the fastest growing city in Missouri between the years of 2000 and 2010, and is likely on track to meet that mark again.
Travel/Weather: While the weather is similar to our other locations, the traffic will depend heavily on where you are coming from. Coming in from the west, driving into Wentzville is pretty stress free! If you're coming from the St. Louis area, you'll see more traffic as it's a more popular route. However, many of our staff in this office live in St. Louis and commute with no problem.
Places to Eat: Whatever your taste, Wentzville is sure to have it! If you're looking for pizza, bar food, breakfast, or a diner, Wentzville has it all. Highly rated restaurants include Mod Pizza, The Tattooed Dog, 54th Street Grill & Bar, Sunny Street Café, Bandanas BBQ, and Sakura Hibachi & Sushi.
Things to Do: Wentzville is a busy place with a lot to do! Located 40 minutes from downtown St. Louis, you have quick and easy access to the Gateway Arch, Forest Park, the Art and History Museums, the St. Louis Zoo, the Muny, and the St. Louis Science Center. St. Louis is also home to the St. Louis Cardinals and the St. Louis Blues, and St. Charles County hosts the River City Rascals and The River City Rage, an indoor arena football team. Wentzville also hosts the annual St. Charles County Fair and St. Louis Renaissance Festival, as well as the Wentzville Days Fair and Music Festival. Get more details at wentzvillemo.org/visitors.