Match # 192515
Internship positions available: 3
Our Mission
The mission of the Clark Community Mental Health Center is "Moving Forward, Improving Lives and Communities, through Compassionate Care."
About Our Site
Clark Community Mental Health Center is a CCBHC and an Administrative Agent for the Missouri Department of Mental Health, providing comprehensive mental health and substance use treatment to residents in a rural, three county area. With outpatient counseling offices in four communities, the Clark Center makes ease of access to care a top priority. All offices have been built or renovated in the last 10 years.
The office where the intern will be housed is located in Monett, Missouri. Monett, located within an hour of Springfield and Joplin, two lakes and other outdoor hotspots is the largest community in the three-county service area. Though Monett's population is only 9000, the town has an estimated 20,000 to 25,000 in town during the day due to the blue-collar and white-collar jobs Monett has to offer.
Monett and surrounding communities, though still predominantly Caucasian, benefit from a growing Hispanic population. Numerous authentic Mexican restaurants and grocery stores are available to the public.
Clark Community Mental Health Center is a member of the National Health Service Corps (NHSC) loan repayment program.
Training Opportunities
The Clark Center experience allows interns to provide individual and/or group treatment to individuals struggling with a wide array of behavioral health disorders. As would be expected in an outpatient, community mental health setting, individuals most often present with SUD, depression, and anxiety, but it is not uncommon for interns to be exposed to individuals presenting with psychotic features, severe co-occurring disorders, and personality disorders.
If the intern expresses interest in any particular cultural group (i.e. impoverished, Hmong, Karen, Hispanic, gay or lesbian, physical disability, faith-based) referrals are directed to that intern.
Rotation Schedule
The Clark Center is flexible when it comes to scheduling activities of interns and providers. Normal operating hours are Monday through Friday from 8:00 am – 5:00 pm. The intern will be assigned opportunities to complete clinical interviews for assessment and be scheduled for individual and group counseling sessions. The intern can also expect to be able to observe providers perform EBPs like EMDR and PCIT. Interns will have scheduled supervision meetings but can expect to communicate with the supervisor between meetings as needed.
Placement Locations
Clark Center has outpatient counseling offices in Monett, Cassville, Greenfield and Aurora and provides counseling services in 10 school districts within the three county catchment area. Interns will have an office in the Monett office and can expect to spend one-two days each week in one of the adjacent schools.
Title
Address
Description
Link
APPIC Training Experiences
Treatment Modalities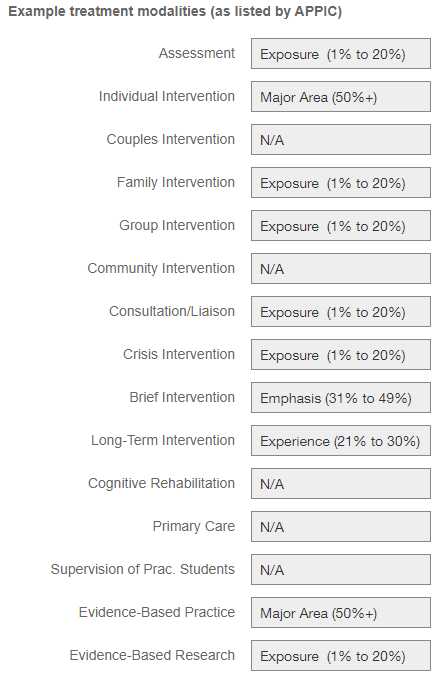 Supervised Experiences
Supervision is taken very seriously. Time will be scheduled to ensure supervision is provided on a consistent, timely basis. Interns can expect to receive the minimum number of the hours of supervision as stipulated by NPTC. Supervision is a two-way street, a collaborative relationship between individuals who learn from each other.  Being prepared to ask questions, express concerns, sharing of successes, reviewing cases, discussing theories, address ethical elements of providing counseling, and other issues relevant to counseling are all potential "grist"  for the supervision "mill". Supervision is not therapy. But, individual issues and personal concerns that may impact the delivery of counseling services are also important elements of supervision. Interns are encouraged to be assertive, to be invested in the process, and to expect the supervisor to be responsible and responsive colleagues who are part of a team.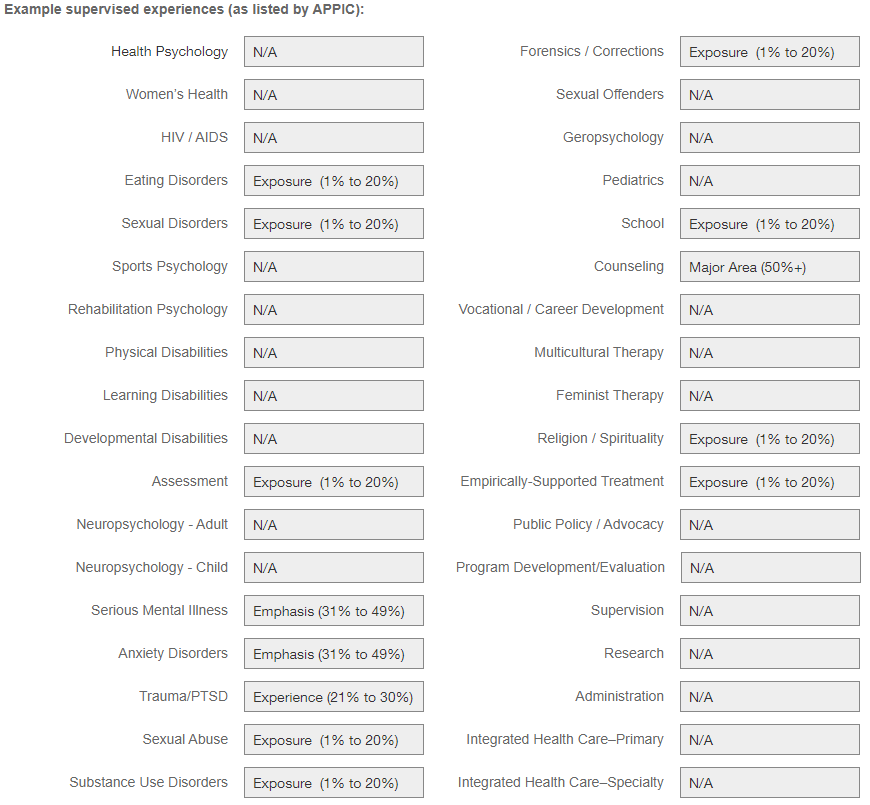 Patient Populations

The area for which the Clark Center serves as a CCBHC consists of three rural counties in southwest Missouri. The population of the largest community in the three county area is approximately 9,000 residents. The population of one of the counties served is essentially the same as that of the largest town in our service area, making it very rural with a great deal of open farmland. With fewer than 85,000 individuals living in a three county area, population density is very low.
The median household income in the three counties is approximately $40,000 per year with nearly 20% of the population living in poverty. Even in the largest community in the three counties where there is a relatively high percentage of white-collar jobs, over 60% of school students receive free or reduced lunches. Even though there are many families struggling with low incomes, the rate of street homelessness is very low; this is attributed to friends and families being willing to house individuals.
Due to serving a largely low-income area, the Clark Center has not and will not turn away individuals with moderate to severe needs based upon an inability to pay. All regardless of socio-economic status who enter through our Open Access model for screening receive a free screening; no pay source is billed for the service. In order to meet the needs of those who have inability to pay, we attempt to utilize the services of interns and we are an NHSC site where professionals can benefit from loan repayment if they work at a facility that utilizes an approved sliding fee scale.
The area largely consists of white residents with approximately 90% of the population being white. With that being said, there is a growing Hispanic community in two of the counties. In those counties, it is not uncommon for 30% of the students in the school classroom to have Hispanic ethnicity and it is estimated that approximately 7% of those older than five years old speak a language other than English in the home. Though a relatively small number from this community are seeking services, the agency hires at present three bilingual staff to assist individuals who might have a language barrier which would otherwise prevent treatment.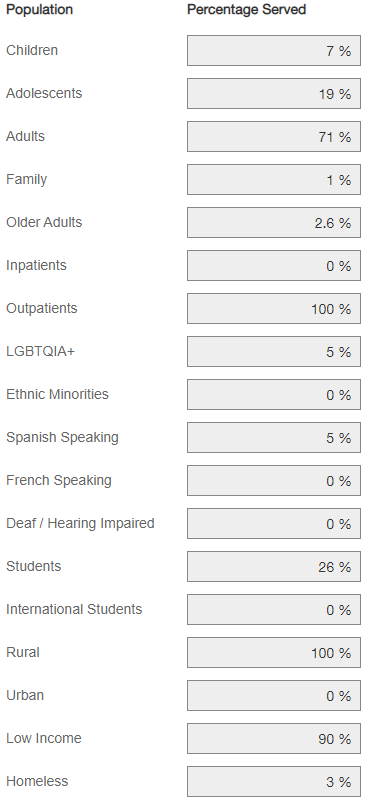 Site Training Director
Matt Costley, Psy.D.
Dr. Costley received his master and doctorate degree at Forest Institute in Springfield, Missouri. Before joining the Clark Center, Dr. Costley served as a behavior health consultant for Cox Health, and worked in private practice at M.A.P.S. His pre-doctoral internship was completed through the consortium at Compass Health and his post-doctoral residency was completed at College Skyline Center. Dr. Costley is EMDR Level II trained.
Primary Supervisors
Richard Brewer, Psy.D.
Dr. Brewer received his master's degree in clinical psychology from Wheaton Graduate School in Wheaton, Illinois, and his doctorate degree in Clinical Psychology at the School of Professional Psychology at Forest Institute in Springfield, Missouri. His pre-doctoral internship was completed at the U.S. Medical Center for Federal Prisoners and his post-doctoral residency was completed at the Family Institute of the Ozarks. Dr. Brewer's theoretical orientation is Cognitive-Behavioral.  Before coming to the Clark Center, Dr. Brewer was a professor of psychology for 33 years.
Melissa Ussery, Psy.D.
Dr. Ussery received her master's and doctorate degrees at Forest Institute in Springfield, Missouri. Before joining the Clark Center, Dr. Ussery served as the Director of Mental Health services for the Greene County Sheriff's office, the largest sheriff's office in the State with the third largest jail in the State of Missouri. She often has been called on to serve as a forensic expert regarding in-custody deaths as well as jail policies and procedures.
Matthew Dzak, Psy.D.
Dr. Dzak earned bachelor's degrees in Psychology and Business Management from Oral Roberts University in Tulsa. He then earned master's and doctoral degrees in Clinical Psychology from Forest Institute of Professional Psychology in Springfield. He has roughly eight years of experience working as a Clinical Psychologist in rural mental health settings, where he has served in both clinical roles and leadership capacities. His interests include psychological assessment, program development, clinical supervision, and administration. He has developed multiple psychological testing programs from the ground up. As the primary supervisor for psychological assessment at the Clark Center, Dr. Dzak's approach to assessment supervision is Socratic, growth-minded, scaffolding-based, and feedback-heavy. He enjoys teaching interns how to write final reports that are accurate, integrated, accessible, and ultimately helpful to the client.
Life in Monett, MO
 Monett is far from a typical rural town. Instead of being a bedroom community to a larger city, it is the home of many businesses. Monett, whose motto is Pride and Progress, is the home of many flourishing companies. Monett is the home base of Jack Henry and Associates, a computer banking software company, that employees 1000 people in Monett alone. While other communities are closing small hospitals, Cox Monett is opening a new hospital in 2020. Though no commercial flights are available to and from Monett, due to business activity, Monett has the sixth busiest airport in Missouri.
Monett is busy during the day and has many fast food and authentic Mexican restaurant options. One need only to travel an hour to experience nightlife activities in Springfield or Joplin or just a little over an hour to enjoy the many Branson, MO activities. Monett is the ideal location for those who like outdoor activities like hiking, fishing, boating or hunting as two lakes and Roaring River State Park are all just an hour away.
Annual Pay, Benefits, and Support
Annual Pay for the 2023-2024 Training Year: $37,000
Benefits provided at this site include:
112 hours PTO for vacation/sick
24 hours of Professional Development
Professional liability insurance
Health insurance at NO cost for the employee
Vision, dental, life insurance available paid by employee
Cafeteria plan
Clark Center observes the following holidays:
New Year's Day
President's Day
Memorial Day
Independence Day
Labor Day
Election Day (Presidential elections only)
Veteran's Day
Thanksgiving Day
Christmas Day
Birthday — Individuals take one day off for their birthday in the month of their birthday.
Please note that available benefits and observed holidays are subject to change. Matched interns will receive full benefit orientations at their site which will go over all benefit information for the training year. More information about the Support and Benefits offered in each of our regions can be found here.
Employment Requirements
Clark Center requires background checks and drug tests on all incoming interns as well as the COVID-19 vaccine prior to the start date.
All employees of the Clark Center are required to pass a drug screen and pass a background check before starting employment.  Individuals taking medications that may cause a positive screen must be able to produce a valid prescription.  A positive screen for marijuana will prevent employment even if its use has been medically recommended.
Background checks may prevent employment if the record shows activities disallowed by the DMH.  Individuals taking medications that may cause a positive screen (stimulants, benzodiazepines, opiates) must be able to produce a valid prescription.  A positive screen for marijuana will prevent employment even if its use has been medically recommended.
Intern Selection Process
Clark Center looks for interns who possess the following characteristics:
Basic philosophy/mission statement of people-helping/counseling

Ability to establish rapport

Good, basic empathic skill

Ability and willingness to be a part of a team and be collegial

Willingness to engage in collaborative supervision

Open to being challenged and w

illing to learn and grow

Aware of personal value system, but not imposing it on others
Non-judgmental – open to discussion and consideration of other viewpoints without engaging in debate or disapproval


Willingness to apply the same expectations on self as one has for his/her clients
All applicants will be reviewed by the Director of Clinical Training and the Director of Outpatient services. These individuals will review the applicant cover letter and the reasons for selecting Clark Center, transcript, resume, personal philosophy/mission statement of counseling, and references. These individuals will also be in charge of conducting all applicant interviews.
COVID-19 Response
Clark Center follows CDC and OSHA guidance regarding COVID-19 regulations. All guests and clients are screened for COVID-19 prior to entry to any buildings and the buildings are cleaned on a regular basis. All employees (including interns) are required to receive the COVID-19 vaccine or an approved exemption prior to the start date. All clients and employees wear masks in the building regardless of vaccination status in situations where social distancing cannot be guaranteed. Clark Center has also implemented special COVID-19 related sick leave allowances for employees in various situations such as needing to quarantine, isolate, etc. Interns at Clark Center provide a mixture of in-person and tele services both from the office as well as some work from home as needed.
Clark Center continues to monitor the current infection rates and CDC guidance for regulations and makes changes as necessary.