Match #192522
Internship positions available: 2
Residency/Job positions available: 2
Our Mission
Truman Medical Centers is an academic health center providing accessible, state-of-the-art quality healthcare to our community regardless of the ability to pay.
About Our Site
Truman Medical Centers is a nonprofit academic health system located in the Kansas City, Missouri metropolitan area. TMC has two hospitals, the largest and most comprehensive behavioral health program in the area, a long-term care facility, and multiple primary care practices. The downtown location, TMC's Health Sciences District, is the largest provider of outpatient specialty care in Kansas City, operates the busiest adult emergency department in the city, and has a Level 1 trauma center. The suburban hospital, TMC Lakewood, is located near Lee's Summit and provides a range of specialty and outpatient services and houses a 16-bed older adult psychiatric unit. Truman Medical Centers Behavioral Health is a leader in the treatment of mental health and substance use issues. Helping around 10,000 patients per year, TMC BH provides a comprehensive array of mental health treatment to persons living in the Kansas City metropolitan area.
Students and other trainees maintain a constant presence at TMC. The inpatient psychiatric units provide training opportunities for local nursing programs, as well as social work, expressive therapy, and counseling students. TMC serves as a training center for psychiatry residents in conjunction with the Center for Behavioral Medicine and the University of Missouri-Kansas City. TMC Behavioral Health Acute Care's psychology department provides training for practicum students, doctoral interns, and post-doctoral residents. TMC BHAC initially provided training rotations to doctoral interns of the Center for Behavioral Medicine, which shares a building with the TMC downtown inpatient behavioral health units. In 2013, TMC BHAC established its own independent inpatient internship program. The internship program was initially accepted as a member of the Association of Psychology Postdoctoral and Internship Centers (APPIC) in 2014 and merged with the APA-Accredited National Psychology Training Consortium – Central Region in 2018.
Training Opportunities
Truman Medical Centers/University Health provides doctoral training experiences at our inpatient and some outpatient locations throughout Kansas City. The TMC internship program is designed to provide interns with a breadth of training focusing on empirically-supported assessment and treatment methods. Interns will gain in-depth exposure to inpatient mental health treatment as a major, year-long rotation, which involves specific services to aid in acute mental health crises and a high degree of interdisciplinary collaboration. Interns will also complete 2 minor rotations in an outpatient clinic, spending 6 months in the child clinic and 6 months in the adult clinic over the course of the year. Interns will attend various trainings throughout the course of the year provided by both TMC and NPTC.
TMC's primary Behavioral Health Acute Care units are located downtown and housed inside the building of the Center for Behavioral Medicine, where TMC operates two 25-bed inpatient psychiatric units. The patient population includes adults 18 and older with a vast range of cultural and socio-economic backgrounds. The most common diagnoses seen within TMC's Behavioral Health Acute Care units include: Schizophrenia, Schizoaffective Disorder, Bipolar Disorder, Substance Use Disorders, Major Depressive Disorder, Generalized Anxiety Disorder, Borderline Personality Disorder, Antisocial Personality Disorder, Intellectual Disability, Autism Spectrum Disorder, Posttraumatic Stress Disorder, and Neurocognitive Disorder. The average length of stay is one week, although some patient stays are shorter while others may be much longer. Many patients present with 96-hour involuntary holds, and the treatment team may file for 21-day civil commitments, potentially followed by 90-day civil commitments. Interns will have the opportunity to attend court hearings and witness psychological testimony as available. Additional acute inpatient opportunities are provided, when possible, at TMC's Lakewood campus. While inpatient, interns will gain exposure to related practice areas, including risk assessment, civil commitment proceedings, and guardianship hearings when available. Interns routinely gain supervision experience through the use of master's level and doctoral practicum students.
Inpatient clinical responsibilities will generally occur across both downtown units. This allows interns to experience both acute units and gain exposure to a greater number of psychiatrists, caseworkers, and other professionals who primarily remain on each unit. Due to the fluctuating nature of acute settings, interns do not have a specific caseload they are required to maintain. However, there are set group responsibilities and individual interventions with patients are dependent upon the interns' required hours and patient needs across both units. Psychological assessments are distributed among interns when ordered by psychiatry. Individual supervision will be provided by one or more staff psychologists who are scheduled full time on the inpatient units.
The goal of the internship is to ensure that interns achieve an intermediate to advanced level of proficiency in providing professional assessment, intervention, and consultation services that are firmly grounded in psychological science. During the internship year, all interns will complete at least 10 psychological evaluations. Inpatient evaluations typically involve a combination of a brief clinical interview and selection of measures that include the MMPI-3, MCMI-IV, WASI-II, BCSE, M-FAST, and TOMM. Additionally, interns will provide a range of clinical intervention services and must demonstrate competence in treatment planning, crisis intervention, individual therapy, group therapy, and consultation with other professionals.
Outpatient rotations are expected to be 2 days per week. Each intern will initially spend 6 months in either a child or adult outpatient clinic, switching in the middle of the internship to finish their last 6 months in the opposite clinic. A primary supervisor will be at each location to directly supervise outpatient cases. The child rotation will generally include children and adolescents from 3 to 17 years old, often presenting with ODD, ADHD, anxiety disorders, or depressive disorders. The adult rotation will generally include patients 18 and older, often presenting with Major Depressive Disorder, PTSD, substance use disorders, anxiety disorders, and Borderline Personality Disorder. Service delivery could include a mix of in-person and/or tele-health, although generally the clinician must remain on-site even for tele-health sessions. Standardized outcome measures are routinely utilized, and some outpatient testing opportunities might be available at times.
Interns will also participate in group supervision through the interdisciplinary treatment teams on the inpatient units along with an additional hour with a third licensed psychologist at one of the outpatient settings. Interns will also participate in assessment seminars to increase their assessment knowledge, which begins with general psychometric reviews and proceeds with presenting didactic information and report examples regarding a variety of specialized assessment areas, including police fitness-for-duty, guardianship, threat assessment, disability, bariatric surgery, parenting capacity, NGRI/IST, etc.
Rotation Schedule
Typical inpatient workdays will include attending multidisciplinary treatment team meetings, gathering patient outcome data, providing group therapy, providing brief individual therapy, and completing psychological assessments. Outpatient workdays will generally include supervision, providing individual therapy, and providing group therapy when available. Each week will include multiple hours of group supervision in some form, a minimum of two hours of individual supervision, minimum of two hours of journal review, and assessment seminar as scheduled. While most work-related duties should be accomplished during the normal workday, additional training requirements, such as reading assignments and completion of dissertation requirements, may have to take place outside of normal work hours.
Interns typically work a Monday – Friday schedule from 8:00 to 4:30. No weekend work, on-call, or holiday work is required. However, given the nature of working in a hospital setting, vacation days must be coordinated to ensure consistent coverage, and no specific days off outside of the formally recognized holidays are guaranteed. Vacation day requests should be made in writing as early as feasible. It is also vital to patient care and functioning of the department that any days utilized for illness be submitted as quickly as possible prior to the expected scheduled work. As a hospital setting, all employees are expected to present for their shifts regardless of weather conditions. Any expected delays should be promptly forwarded to the primary supervisor. An example of the typical weekly schedule for interns is provided below: (see example schedule chart)
Interns have a dedicated inpatient workstation located in a training office on the BHAC unit 2C, while practicum students work in a separate office on 2D. Interns have their own permanent workstation for the year, which includes a shared phone-line, individual computer, and a large window with a view of one of the building's many courtyards. The Psychology Department maintains various tests utilized in an acute mental health setting, which are generally maintained in the interns' training office, where interns can read the manuals, practice with the instruments, and easily access them when needed.All interns have access to terminals connected to the local area network (LAN) through which all staff has access to programs such as Microsoft Office, Internet browsers, an electronic records systems provided by Cerner (PowerChart / eCare), online test scoring, and other online training tools. Interns will also have a dedicated office space on their outpatient days to see patients and complete medical record entries. The shared network G: drive can be accessed from all TMC computers and contains group curriculum materials, individual interventions, report templates, multicultural articles, and other educational resources on various relevant topics. Each intern also has a personal H: Drive they can use for online storage.
Please note that not every experience is identical and site schedules are a general guideline. Interns may be required to make themselves available at other times as needed. What is provided above is an example of what the work week might look like for an intern at this site.
Example Schedule
| | | | | | |
| --- | --- | --- | --- | --- | --- |
| | Monday | Tuesday | Wednesday | Thursday | Friday |
| 8:00-8:30 | Outpatient Therapy | Outpatient Therapy | Chart Review | Chart Review | Didactics |
| 8:30-9:00 | Outpatient Therapy | Outpatient Therapy | Outcome Measures | Outcome Measures | Didactics |
| 9:00-9:30 | Outpatient Therapy | Outpatient Therapy | Treatment Team 2C and 2D | Treatment Team 2C and 2D | Didactics |
| 9:30-10:00 | Outpatient Therapy | Outpatient Therapy | Treatment Team 2C and 2D | Treatment Team 2C and 2D | Didactics |
| 10:00-10:30 | Outpatient Therapy | Outpatient Therapy | Treatment Team 2C and 2D | Treatment Team 2C and 2D | Didactics |
| 10:30-11:00 | Outpatient Therapy | Outpatient Therapy | Individual therapy, Assessment | Individual Therapy/Assessment | Didactics |
| 11:00-11:30 | Outpatient Therapy | Outpatient Therapy | Group on 2D | Group on 2D | Didactics |
| 11:30-12:00 | Outpatient Therapy | Outpatient Therapy | Documentation | Documentation | Didactics |
| 12:00-12:30 | Lunch | Lunch | Lunch | Lunch | Lunch |
| 12:30-1:00 | Journal Review | Journal Review | Journal Review | Journal Review | Journal Review |
| 1:00-1:30 | Outpatient Group | Individual Supervision | Group on 2C | Group on 2C | Group on 2C |
| 1:30-2:00 | Outpatient Group | Individual Supervision | Individual Therapy/Assessment | Individual Therapy/Assessment | Individual Therapy/Assessment |
| 2:00-2:30 | Outpatient Therapy | Outpatient Therapy | Individual Therapy/Assessment | Individual Therapy, Assessents | Assessment Seminar |
| 2:30-3:00 | Outpatient Therapy | Outpatient Therapy | Individual Therapy/Assessment | Individual Therapy/Assessment | Assessment Seminar |
| 3:00-3:30 | Outpatient Therapy | Documentation | Individual Supervision | TMC Professional Development Seminar | Individual Therapy/Assessment |
| 3:30-4:00 | Outpatient Therapy | Group Supervision | Individual Supervision | TMC Professional Development Seminar | Individual Therapy/Assessment |
| 4:00-4:30 | Documentation | Group Supervision | Documentation | Documentation | Documentation |
Please note that not every experience is identical and site schedules are a general guideline. Interns may be required to make themselves available at other times as needed. What is provided above is an example of what the work week might look like for an intern at this site.
Placement Locations
Truman Medical Centers Behavioral Health System is comprised of the following locations:
Truman Medical Center-Health Sciences District: The inpatient unit is located downtown and housed inside the building for the Center for Behavioral Medicine, where Truman operates two 25-bed inpatient units. The main medical hospital within the Health Sciences District can provide additional mental health treatment, such as electro-convulsive therapy.
Healing Canvas: This outpatient center provides mental health services to citizens in the downtown Kansas City Crossroads neighborhood. It provides a broad range of clinical services for children, adolescents, and adults.
Truman Medical Center-Lakewood: This hospital provides psychiatric treatment for older adult patients.
It should be noted that the Truman Medical Centers office locations are approximately 2 hours and 45 minutes away from Springfield, Missouri. Due to the distance, interns at this location will be provided with some travel reimbursement considerations for any required training in Springfield.
Possible Internship Placements:
Lakewood Counseling Service: This outpatient center opened in 2006 to provide mental health and substance abuse services to citizens of Eastern Jackson County. It provides a broad range of clinical services for children, adolescents, and adults.
Title
Address
Description
Link
APPIC Training Experiences
Treatment Modalities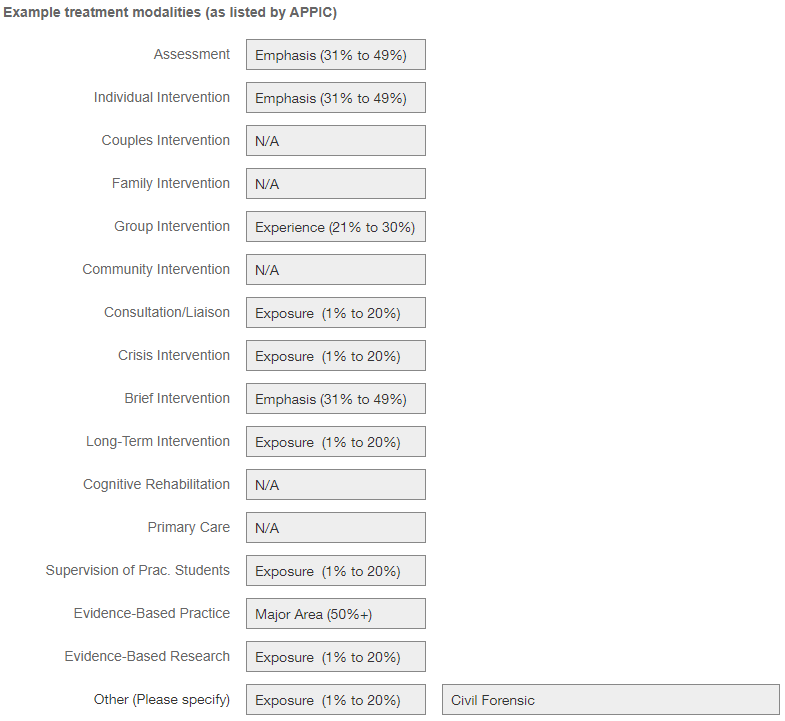 Supervised Experiences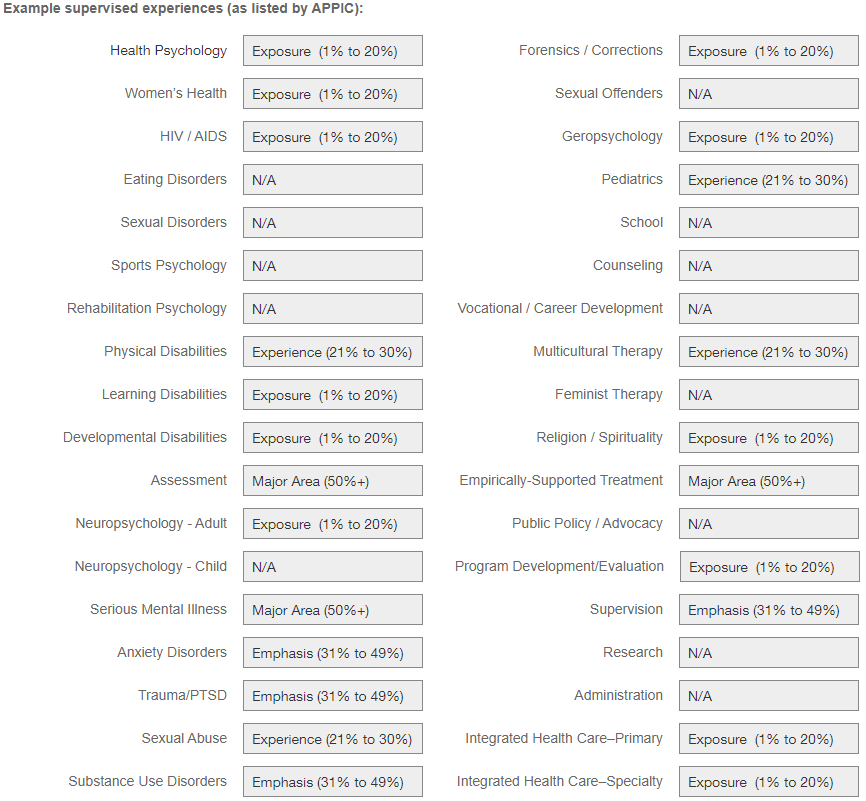 Patient Populations

Truman Medical Centers has a highly diverse patient population, both by ethnicity and languages spoken. The hospital provides on-site interpreters for several languages, as well as interpretive phone services for additional languages and dialects so that clinical services can be provided with the limited impact of any language barriers.
TMC strives to maintain a diverse workforce. In the fiscal year 2020, the employee and patient demographics were as follows:
| | | |
| --- | --- | --- |
| TMC Fiscal Year 2020 | Employee Demographics | Patient Demographics |
| Asian | 4% | 1% |
| Black or African-American | 27% | 29% |
| Hispanic/Latinx | 6% | 8% |
| Other | 4% | 15% |
| White/Caucasian | 59% | 47% |
TMC strives to set a community example through taking a leadership role in diversity and inclusion, which includes partnering with other organizations in supporting the Trans Health Inclusion conference and other educational and networking opportunities. TMC has developed both a Leader's Diversity and Inclusion Council as well as an Executive Diversity and Inclusion council. There is both a behavioral health and corporate diversity committee, and TMC hospitals account for two of the 14 Missouri locations that have obtained the LGBTQ Healthcare Equality Index Leader designation.
TMC patients often struggle with a variety of social issues that complicate their cases and create barriers to treatment. Much of the patient population, particularly those in the inner city, face a relatively high degree of violent crime. This results in many patients experiencing high levels of traumatic experiences, which directly impacts their mental and physical wellbeing. Their patient population also experiences frequent substance use issues, which directly and indirectly results in psychiatric hospitalizations and negatively impacts their physical health. TMC is proud to be a safety net hospital, which provides services for patients regardless of ability to pay, and includes a high number of homeless patients. Because of this, TMC's payment sources are vastly different from many other facilities: in fiscal year 2020, 30% of patients were self-pay, and 23% of the patient population received Medicaid. For fiscal year 2020, TMC provided 152 million dollars in uncompensated care to the community.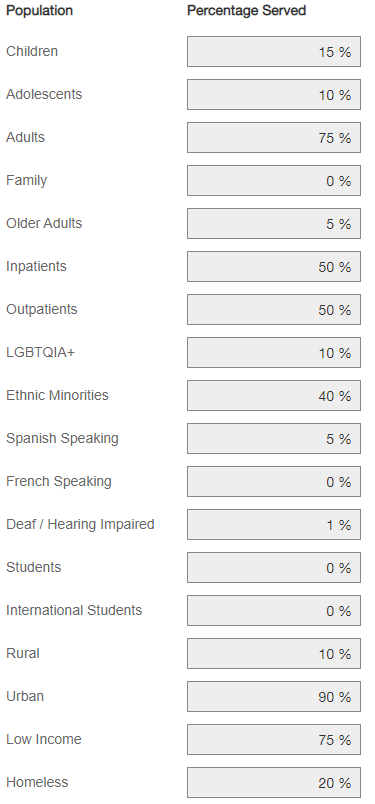 Site Training Director
Shawn McDaniel, Psy.D.
Dr. McDaniel has 13 years of experience working in psychiatric hospitals that have included child, adolescent, and adult patients as well as specialized facilities for older adult acute patients. This also includes experience collaborating with other hospital departments to address various healthcare issues, such as reducing assaults, managing patient and visitor issues, and furthering integrated healthcare opportunities in various medical inpatient areas and outpatient care clinics. He has also supervised practicum students, doctoral interns, and residents during inpatient rotations. His primary areas of expertise are assessment and diagnosis, and he has been either full-time or adjunct faculty at five different colleges and universities, currently maintaining an adjunct position as an assessment instructor for a doctoral program. Through his private practices, he has provided numerous civil forensic consultations and was added to the panel of experts by the federal criminal court system. His additional criminal justice education and past experience as a firefighter and soldier also aid in his collaboration with first responders and veterans mental health issues.
Primary Supervisors
Eric Shult, Ph.D.
Dr. Eric Shult received his doctorate in counseling psychology at the University of Memphis and his undergraduate degree from Humboldt State University. He is a licensed psychologist in the state of Missouri. After completing his postdoctoral residency at Truman Medical Centers in 2013, Dr. Shut became a psychologist at Truman Medical Centers Inpatient Units. He has extensive experience treating chronic mood, anxiety, and personality issues in both outpatient and inpatient settings. He has extensive experience providing didactic presentations on multiculturalism and suicide prevention and is an adjunct instructor at Avila University in Kansas City, Missouri. Furthermore, Dr. Shult has extensive experience training and providing supervision of masters-level and doctoral-level interns.
Jennifer Keller-McDaniel, Psy.D.
Dr. Keller-McDaniel obtained training in various settings, including inpatient psychiatric hospital, community mental health center, university counseling center, learning diagnostic clinic, multicultural center, and hospice. She works primarily with children and adolescents, though she provides some specific services for the adult population. Dr. Keller-McDaniel was previously employed at the University of Tennessee Martin both as a staff psychologist and later as the clinical coordinator of counseling services. Dr. Keller-McDaniel was also formerly the preadolescent program director at Royal Oaks Hospital, where she provided and supervised clinical services on the preadolescent unit. Dr. Keller-McDaniel was previously an adjunct professor at Forest Institute of Professional Psychology and Missouri Valley College, and she is currently an adjunct professor at Avila University. Dr. Keller-McDaniel is the Section Chief for Psychology at Truman Medical Center and an outpatient psychologist at TMC Lakewood Counseling Service in Lee's Summit, Missouri where she provides evidence based treatments. She is a licensed psychologist and health service provider in the state of Missouri. She has retired her license in Tennessee. Dr. Keller-McDaniel is a registrant with the National Register of Health Service Providers in Psychology. She is a member of the American Psychological Association, APA Division 53 (Society of Clinical Child and Adolescent Psychology), APA Division 12 (Society of Clinical Psychology), and the Missouri Psychological Association. Dr. Keller-McDaniel currently sits on the board for the Greater Kansas City Psychological Association.
Life in Kansas City, MO
The Kansas City metropolitan area offers a wide range of activities and attractions to ensure there are plenty of ways to unwind during time away from training.
Sports
Kansas City offers multiple professional and semi-professional sporting events throughout the year, including baseball, ice hockey, football, soccer, college basketball, and auto racing. Be here to watch the 2015 World Series Champions in action.
Museums and the Arts
Kansas City has a variety of activities related to music, the performing arts, and visual art, including the Kauffman Center for the Performing Arts, the 18th and Vine Jazz District, Crossroads Art District, Negro Leagues Baseball Museum, WWI Museum at Liberty Memorial, Nelson-Atkins Museum of Art, and multiple indoor and outdoor concert centers.
Shopping and Entertainment
The Kansas City area provides several excellent shopping locations, including the Country Club Plaza and Legends Outlets. It also offers a variety of nightlife options, including the Power & Light District, Westport District, and multiple casinos. There are also multiple locations for family fun, including amusement and water parks, the Kansas City Zoo, LEGOLAND Discovery Center, and the Kansas City Sea Life Aquarium.
Salary, Benefits, and Support
Salary for the 2022-2023 Training Year: $31,200
Benefits provided at this site include:
14 days of PTO (vacation /holidays/sick leave)
24 hours of Professional Development
Health and dental insurance

The majority of medical services provided by Truman Medical Centers are completely free to employees if using the employee insurance

Disability insurance
Optional vision insurance
Prescription benefits
Robust wellness program

TMC's on-site wellness center in the Health Sciences District costs $35 per year.

Flexible spending plan
Retirement (403b)

TMC matches 50% of contributions up to 8% of the employee's pay

Bereavement leave
Employee Assistance Program
Corporate discount plans
Professional liability insurance (for those not already covered)
Truman Medical Centers observes the following 8 holidays:
New Year's Day
Martin Luther King Jr. Day
Memorial Day
Independence Day
Labor Day
Thanksgiving Day
Friday after Thanksgiving
Christmas Day
It should be noted that the Truman Medical Centers internship location is approximately 2 hours and 45 minutes away from Springfield, Missouri where interns must travel to quarterly in-person didactics. Due to the distance, interns will be provided with lodging at a Springfield hotel and will be provided with mileage reimbursement. Interns should make prior arrangements for any childcare or petcare needs during this time each quarter.
Please note that available benefits and observed holidays are subject to change. Matched interns will receive full benefit orientations at their site which will go over all benefit information for the training year. More information about the Support and Benefits offered in each of our regions can be found here.
Employment Requirements
Prior to onboarding, all intern applicants will have the following background checks provided by TMC:
Missouri Department of Health and Senior Services – Employee Disqualification List
US Department of Health and Human Services List of Excluded Individuals/Entities
Criminal background check with the local jurisdictions as well as the Missouri Highway Patrol
Local County, State, and Multi-State Criminal/Sex Offender check
Social Security Number Tracer
Government Services Administration Excluded Parties Listing System
Review for outstanding warrants
Family Care Safety Registry
Interns must also pass an initial employment drug screen and verify the following occupational health requirements:
Measles, Mumps, Rubella
Varicella
Flu Shot
2-Step TB Test
COVID-19
All TMC employees, including interns, are bound by the company's policy against tobacco and vaping use, which includes time when not at work.
Intern Selection Process
Truman Medical Centers reviews applications in a series of steps to determine which applicants are to be offered interviews. Applications are reviewed for initial evidence of goodness-of-fit for the inpatient setting, assessment experience, commitment to empirically-supported treatments, and other factors that might contribute to a successful year for the intern and quality of care for patients. Interviews consist of answering applicant questions, orienting applicants to the demands of the acute setting, and asking a series of standard questions pertaining to supervision, treatment, assessment, ethics, and diversity. Applicants are graded in each area for the content of their responses and demonstration of critical thinking. Successful interviews are generally marked by displays of good clinical rationale, quality risk analysis, and commitment to assessment and intervention methods most supported by research for the setting. Qualities that thrive in the high demands of the acute setting include dependability, professional mindset, honesty, and flexibility.
COVID-19 Response
Truman Medical Centers follows CDC guidelines for COVID-19 safety protocols. Currently, all employees must be vaccinated for COVID-19 and attest to being symptom free when badging to enter any TMC building. Masks must be worn at all times according to the PPE matrix, with elevated levels being required for patient contact, which includes protective eyewear and level III masks. All testing materials and group rooms are disinfected after each use. Due to the nature of the setting, all interns will provide in-person care while on the inpatient units. During outpatient rotations, interns will provide services via a combination of in-person and telehealth depending upon a variety of patient and payor factors, although all telehealth services will be provided on-site (i.e. no Truman interns work from home).
Policies are made at the corporate level and generally maintained in accordance with CDC guidance and local health policies when possible. Changes are made as the COVID-19 situation waxes and wanes.