Lafayette Outpatient Services - Lafayette, IN
Match #: 228823 – Generalist (Lafayette)
Traditional Internship positions available: 1
About This Rotation
Valley Oaks Health wants interns to develop knowledge and skills in clinical assessment and intervention by becoming skilled in both interview and psychometric methods of assessment, developing a broad range of conceptualizations for client problems and strategies for intervention, becoming skilled in the use of a variety of therapy techniques, and becoming more aware of their own strengths, biases, and limitations and how to work with them. It is our goal to help interns develop a professional identity within a multidisciplinary framework that values psychology while respecting the contributions of other specialties, by working closely with primary supervisors in developing an understanding of the scientific psychological approach, appreciating the different perspectives offered by a variety of colleagues from other disciplines, learning how to work as a member of a multidisciplinary team, and gaining a concrete appreciation of the professional and ethical obligations of psychologists in clinical practice. Interns will learn about the role community mental health centers play in the community and the health care system by identifying the spectrum of care offered by the community mental health center and how it relates to the needs of its clients and the community, learning about other community agencies/resources and how to work cooperatively with them, and appreciating the need to use limited resources wisely to meet realistic and practical goals.
A feature of Valley Oaks' positions is that interns will work in two different settings and have supervision from up to three different psychologists during the year, though the main primary supervisor will be the same throughout the year. Through this structure, interns have the opportunity to be exposed to a variety of supervision styles as well as different clinic sizes and client populations. The generalist track offers unique training opportunities, such as experience with intensive addictions treatment, experience with SMI and homeless outreach specialty programs, and opportunity to be involved in supervision of practicum students.
This intern will complete all new-hire training required of Valley Oaks staff, including but not limited to such topics as diversity and cultural humility, trauma-informed care, substance abuse, working with Indiana's Department of Child Services (DCS), etc. They will work alongside diverse staff and trainees within the Valley Oaks system.
Valley Oaks psychologists are recognized as valuable clinical resources, as evidenced by their involvement in guiding diagnoses and treatment plans for most of the agency's clientele as well as their involvement in ongoing staff and community training functions. Other agency disciplines similarly encourage teaching and training through placements of nursing, medical, and social work students.
Training Opportunities
Lafayette Outpatient Services, Lafayette, IN
In this position, there may be opportunities to work with an intensive outpatient addictions program, the chronically mentally ill, and/or with a homeless outreach program, depending on availability and intern interest. Interns in this track also regularly work with clients referred by DCS, the court system, and probation. The majority of the internship is focused on traditional community mental health generalist practice: intakes, therapy, crisis intervention, etc. Specialized services are provided at select locations with the Valley Oaks system.
In the generalist track, the intern's main placement will be four days a week at our main outpatient office in Lafayette serving Tippecanoe county. The secondary rotation will be one day a week for a full year with at one of our smaller, more rural locations, ranging from a 20-40 minute drive from Lafayette.
Rotation Schedule
Interns in the generalist track will generally work a Monday – Friday schedule from 8:00 am – 5:00 pm each day. There may be some flexibility to work later hours such as 9:00 am – 6:00 pm or longer days balanced with shorter days such as 8:00 am – 6:00 pm one day and 8:00 am – 4:00 pm another day (as long as the intern is scheduled to work 40 hours in a given workweek). Such variations are not guaranteed and must be approved by both the main primary supervisor as well as the site supervisor for the clinic affected by the change in schedule.
The intern will be at the Lafayette Outpatient office four days a week, working with clients of all ages. Part of those four days will include time devoted to psychological assessment. The generalist intern's secondary rotation will be one day per week at a smaller, more rural Valley Oaks location, approximately 20-40 minutes from Lafayette.
Site schedules are a general guideline and interns may be required to make themselves available at other times as needed.

Placement Locations
Interns will provide services in the following office locations:
Lafayette Outpatient Services, 415 N. 26th St., Ste. 201, Lafayette, IN
To Be Determined: either Monticello Office, 938 West Executive Ct., Monticello, IN or Delphi Office, 1265 N. Bradford Dr., Delphi, IN
It should be noted that satellite office locations for Valley Oaks Health range from 30-45 minutes (drive) from Lafayette and that interns must travel one hour from Lafayette to Peru for quarterly in-person didactic training. All Valley Oaks specific new-hire training takes place virtually or at our administrative office in Lafayette (415 N. 26th St.). Interns may need to travel to satellite offices on occasion for some of their supervision.
Title
Address
Description
Link
APPIC Training Experiences
Treatment Modalities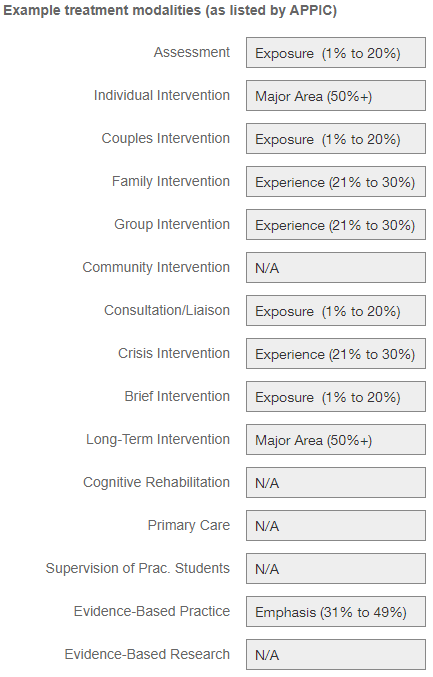 Supervised Experiences
The most commonly seen diagnoses/supervised experiences that interns can expect to be working with at this location include, but are not limited to, mood disorders, ADHD, anxiety disorders, PTSD, substance abuse, and schizophrenia/other psychotic disorders.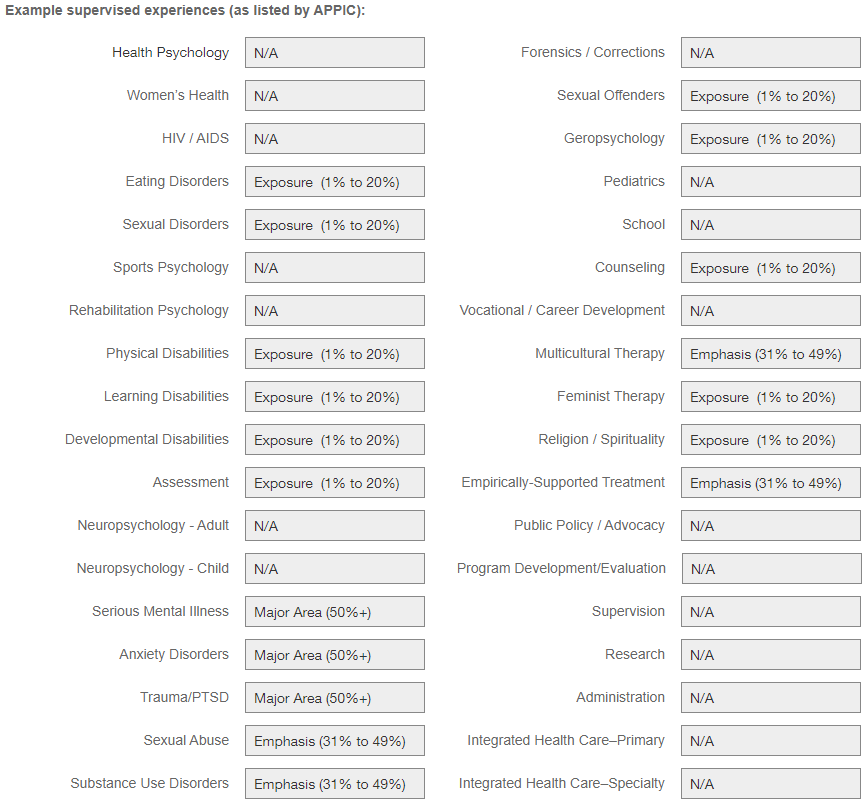 Patient Populations

Valley Oaks Health is a comprehensive community mental health center headquartered in Lafayette, IN, serving a total of nine counties in north-central Indiana. It has the geographically largest service area of any mental health center in Indiana, maintaining offices in seven of those nine counties at over 15 different locations. Between our outpatient and residential programs, Valley Oaks has five physical office locations in Tippecanoe county. Although the large majority of the area's population is White Americans of European heritage, there is a growing Latino population across Valley Oaks' service area.
The population of Tippecanoe tends to be dispersed over a large geographic area with little in the way of public transportation outside of central Lafayette. There are even fewer public transportation options available in Carroll county, where the generalist intern will have a rotation. Clientele often have difficulty with transportation to appointments, and there may be waiting lists to initiate therapy or specialty services.
According to the US Census Bureau, the population of Tippecanoe county is 195,732, and the racial makeup is 84.0% white, 6.2% Asian, 4.0% Black or African American, 0.3% Native American, 3.3% from other races, and 2.2% from two or more races. Those of Latinx origin make up 7.5% of the population.
The population of Carroll county is 20,257, and the racial makeup of the county is 96.8% white, 0.2% Native American, 0.2% Black or African American, 0.1% Asian, 1.7% from other races, and 1.0% from two or more races. Those of Latinx origin make up 3.5% of the population.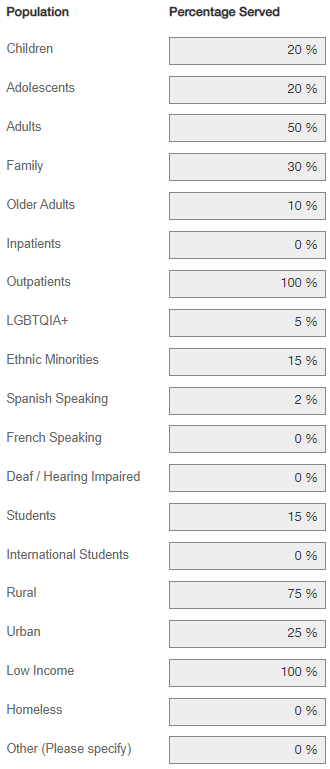 Rachel Ploskonka, Ph.D., HSPP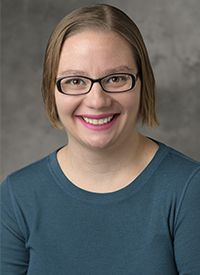 Dr. Ploskonka is the Main Primary Supervisor for the Generalist (Lafayette) Track intern as well as the assessment supervisor for all interns. She received her doctorate in Counseling Psychology from Purdue University in 2017 after completing her APA-accredited internship at the University of Missouri – Columbia University Counseling Center. Dr. Ploskonka has diverse clinical experiences across populations, modalities (e.g., individual, couples, family, group), and settings (e.g., university counseling centers, community mental health agencies). She also has experience working within numerous theoretical orientations (e.g., cognitive behavioral therapy, interpersonal process therapy); however, she most prefers to work within social constructivist and narrative frameworks. She has served as a psychologist at Valley Oaks Health (VOH) since earning her doctoral degree, and her areas of clinical expertise include complex trauma, chronic mental health concerns, and substance use issues.
Dr. Ploskonka has experience working with doctoral trainees at all phases of their clinical development and training, ranging from trainees who are working with clients for the first time to intern-level trainees. Her supervision style focuses on developing trainees' abilities to engage in both the art and science of psychological practice though a strengths-based approach, which focuses on highlighting trainees' strengths while simultaneously refining their areas of growth.
Dr. Ploskonka is also actively involved in the Indiana Psychological Association (IPA) where she serves on the Science and Education (S&E) Committee.
Monique Kulkarni, Ph.D.,HSPP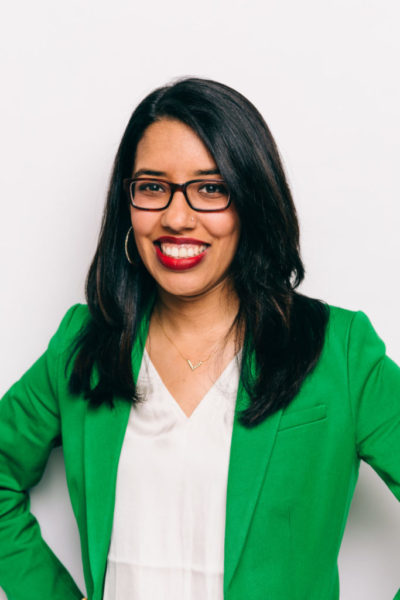 Monique Kulkarni, Ph.D., HSPP – Site Training Director
Dr. Kulkarni received her doctorate in Counseling Psychology from the University of Texas at Austin in 2012 after completing her APA-accredited pre-doctoral internship at the University of California, Berkeley. She is Senior Director of Clinical Services at Valley Oaks Health (VOH), and in this role oversees clinical operations in eight of nine counties in VOH's service area as well as provides clinical oversight to VOH's intensive child and adolescent services provided across the service area. She has specialized training in early childhood mental health and a wealth of experience when it comes to issues of diversity and inclusion, identity development, and early career transitions. Over the past decade, she has served in numerous leadership roles within the Asian American Psychological Association as well as the Society of Counseling Psychology (Division 17) within the American Psychological Association. She also currently serves as one of the founding co-chairs of the Racial Equity and Leadership Committee for the Indiana Council of Community Mental Health Centers.
Kassy Yarbrough, Psy.D., HSPP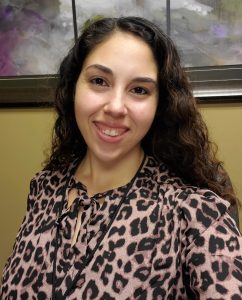 Dr. Yarbrough is a Primary Supervisor for the secondary rotation at the Community Living Program for Children and Adolescents and co-facilitates group supervision with Dr. Kulkarni. She received her doctorate in Clinical Psychology from the California School of Professional Psychology in 2020 after completing her APA-accredited internship with Valley Oaks Health. Her areas of clinical interest include anxiety and substance use disorders. Dr. Yarbrough currently works with youth ages 6-19, providing individual, family and group therapy, in the office and in a high school setting. Her dissertation research focused on the influence of religious and spiritual factors on recovery from a substance use disorder.
Life in Lafayette, IN
The Lafayette / West Lafayette metropolitan area has a population of 172,000, making it the 6th most populous in Indiana. Although the large majority of the area's population is White Americans of European heritage, Purdue University has a very cosmopolitan student body as well as faculty/staff, representing over 120 countries. There is a growing Latino population across Valley Oaks' service area as well.
Purdue University is a Big Ten university with an international reputation in engineering, agriculture, aviation, and business. Purdue provides a cultural influx to the area, with music, theater, and sports activities. West Lafayette, where Purdue is located, has one of the top-rated school systems in the state. The Lafayette-West Lafayette area has a prosperous and diverse economy with Subaru, Caterpillar, Alcoa, General Electric, Wabash National, Purdue, and Indiana University-Health being large employers in the area. Due in large part to the large and diverse employers in the area, the greater Lafayette area also has a thriving restaurant scene featuring a number of international cuisines as well as local microbreweries.
In addition, Lafayette is located one hour north of Indianapolis and 2 hours south of Chicago, both very convenient for day trips or weekend outings.
For many of the above stated reasons, many Valley Oaks interns have opted to live in the Greater Lafayette area. Most interns have rented apartments, some in the city and others near Purdue University, while others have had luck renting houses. Central Lafayette and parts of West Lafayette (primarily close to Purdue) are accessible by City Bus, otherwise Uber is also an option. Due to the structure of rotations and expectation of traveling between offices and to Logansport, interns typically rely on their personal vehicles for day to day transportation.