Interview with Dr. Dross-Gonzalez
Match #228811

Internship positions available: 3
Residency/Job positions available: 2
Our Mission
The mission of Aspire Indiana, Inc. is "To create extraordinary experiences that empower the people we serve to live their best lives." We believe that every life has value. Everyone deserves access to quality, fully integrated "whole health" care regardless of where they live or their socioeconomic status.
At Aspire, we help you become healthier so that you can live your best life.
About our Site
Aspire Indiana Health is a fully integrated nonprofit health system that includes primary medical care, behavioral health, and social determinants of health such as employment and housing. We are certified by the state of Indiana as a Community Mental Health Center (CMHC) and by the U.S. Health and Human Services Department as a Federally Qualified Health Center (FQHC).
We operate six clinics in Central Indiana but also have numerous community support programs that have an impact across approximately half the state, addressing needs such as addiction, infectious disease, youth and family services, crisis management, rehabilitation, housing assistance, job placement, veterans' support, group therapy and more.
We are recognized by our peers as an innovator in delivering comprehensive services to our patients and for promoting the health and happiness of our employees. Aspire Indiana Health actively promotes the well-being of its team members through an emphasis on work/life balance, competitive pay/benefits and opportunities for career development and advancement.
We are ambitious, financially strong and growing. While our story is multifaceted, our mission is simple: Together… making health and well-being a reality!
Aspire is an organization that believes in challenging ourselves to look to the future and set "reach" goals. National statistics show that the seriously mentally ill and addictions populations we serve die 15- 26 years earlier than their counterparts in the general populations. To respond to this, we became an FQHC, bringing primary health care to those we serve and beyond. Aspire has a long history of addressing social determinants of health (SDoH,) believing that such issues as housing and employment are essential to health and well-being. We are continually working toward a "no wrong door" approach to the communities we serve as we pursue whole health for the whole family.
Aspire offers three traditional internship positions. We are unique in having our FQHC primary care offices within our outpatient CMHC clinics, making integration a reality every day. While there are specific differences in focus between the locations and rotations of internships, all interns will have the opportunity to work with multi-disciplinary teams, join integrated care staffings and attend grand rounds.
Interested in knowing more? Go to our website at www.aspireindiana.org
Aspire's internship training experience is organized by two main rotations. This approach is designed to ensure that interns get exposure to programs and services that are at the leading edge of integrated care and population health management. The two primary rotations offered are Substance Use Disorders (SUDS) rotation and Behavioral Health Consultant (BHC) rotation within an integrated care setting. All interns will participate in each training rotation as a part of their experience at their assigned office location.
The SUDS Rotation is designed to promote understanding of the whole health processes associated with recovery from substance abuse disorders. As part of this rotation, interns will develop competency and understanding of the numerous behavioral health treatment modalities associated with SUDS including group, individual, and family therapy, as well as life skills training. Interns will also become familiar with the continuum of care (including psychoeducation, outpatient, and extended outpatient treatment) associated with substance use disorders. Interns will develop competency in facilitating substance use disorder best practices, as well as demonstrate understanding of medically-assisted treatment and the associated behavioral health practices. Interns will develop and hone their understanding of American Society of Addiction Medicine (ASAM) criteria to conceptualize cases and make treatment recommendations.
Service provision opportunities will include:
Assessment and diagnosis of clients and formulating whole health treatment recommendations
Providing all levels of SUDS treatment (Basic Outpatient, Extended Outpatient, Education, Extended Outpatient, and Step Down Groups)
Working collaboratively with the legal system (including Probation, Department of Child Services (DCS), local Drug Court, and Opiate Probation Programs) and forensic peer specialists to assist clients in entering recovery
Providing family treatment (group and family modalities) and education
Working collaboratively with Aspire's integrated primary care team to facilitate client whole health treatment.
The BHC rotation is intended to give interns direct exposure to and training in an integrated healthcare setting. Interns will learn about the culture, workflow, treatment philosophy, specific language, and team-based approach that characterizes integrated care. Interns on this rotation will demonstrate competency in brief-targeted interventions, brief functional assessment, and therapeutic relationship development. Interns will demonstrate the ability to construct a case conceptualization that incorporates a client's medical diagnoses/treatment. They will provide brief behavioral medicine consultations and interventions with clients receiving primary health services. Additionally, interns will demonstrate competency in the provision of BHC services remotely using telehealth technology.
Service provision opportunities for this rotation include:
Functional assessment and diagnosis of patients in a primary care setting.
Providing on-demand behavioral health and behavioral medicine consults.
Providing brief-targeted empirically supported interventions and triage services both in person and remotely (telehealth).
Effective communication, working relationship, and coordination of patient care between treatment team members.
Interpretation and communication of behavioral health screens.
Interns will spend a significant portion of their service time working in the major rotations–around 8-12 hours each week. For the balance of their week, interns will work alongside our supervising psychologists in our outpatient offices. They will work as generalists, developing competency in many of the unique job functions of a psychologist working in a community mental health center. These job functions include providing assessment and therapy services, helping to facilitate clinical staffing, and consultation with other behavioral health and primary care providers on our clinical teams.
Rotation Schedule
While in the Substance Use Disorder rotation, interns will generally work a schedule similar to what is listed below:
Mondays and Wednesdays: 8:00 am – 5:00 pm
Tuesdays and Thursdays: 10:00 am – 8:00 pm
Fridays: 9:00 am – 1:00 pm
While in the Behavioral Health Consultant rotation, interns will generally work a Monday – Friday schedule from 8:00 am – 5:00 pm each day.
Interns will spend a significant portion of their service time working in the major rotations–around 8-12 hours each week. For the balance of their week, interns will work alongside our supervising psychologists in our outpatient offices. Both interns will experience both rotations. They will switch rotations at the mid-point of the year.
Site schedules are a general guideline and interns may be required to make themselves available at other times as needed.
Noblesville Outpatient Serices - Noblesville, IN
Carmel Outpatient Services - Carmel, IN
Aspire Indiana Health - Anderson, IN
Placement Locations
Current Office Locations:
Willowbrook Outpatient – Indianapolis, IN
Noblesville Outpatient – Noblesville, IN
Carmel Outpatient- Carmel, IN
Possible Additional Office Locations:
Elwood Outpatient – Elwood, IN
DeHaven Outpatient – Anderson, IN
Lebanon Outpatient – Lebanon, IN
Office placement is determined by expressed interest and preference. Mileage reimbursement for travel between office locations is provided. It should also be noted that each of these locations range from 1 hour to 1.5 hours away from Logansport, IN where interns attend didactic quarterly in-person didactic training. Travel to didactics is the responsibility of the intern and should be taken into consideration.
Title
Address
Description
Link
APPIC Training Experiences
Treatment Modalities
Example treatment modalities (as listed by APPIC):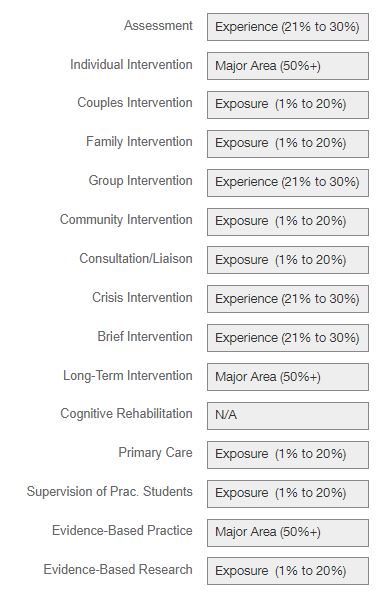 Supervised Experiences
The most commonly seen diagnoses/supervised experiences that interns can expect to be working with at this location include, but are not limited to, Opioid Dependence, Alcohol Dependence, Cannabis Dependence, Other Stimulant Dependence, Post Traumatic Stress Disorder, Major Depressive Disorder, Borderline Personality Disorder, Antisocial Personality Disorder, ADHD, and Oppositional Defiant Disorder.
Supervisory experience as listed in APPIC below: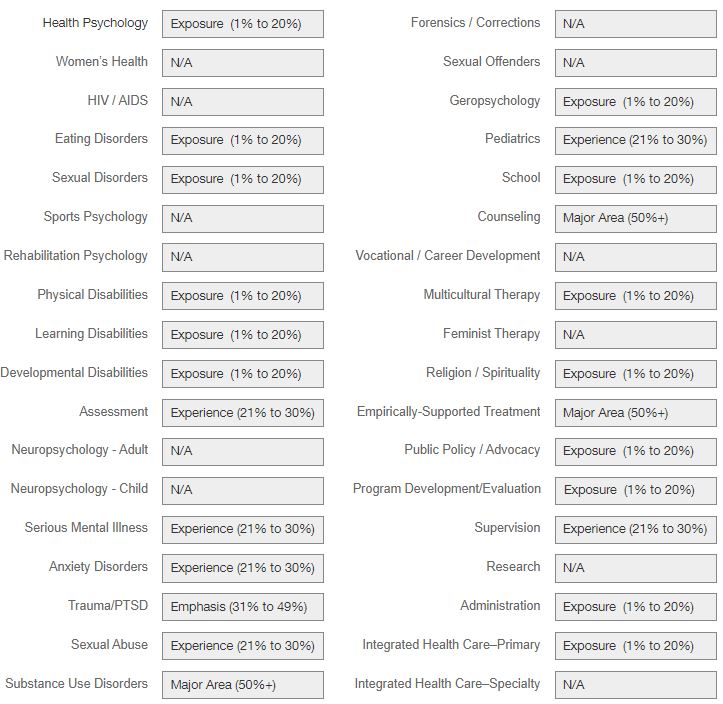 Patient Populations
Aspire Indiana's service area covers Boone County, Hamilton County, Madison County, Marion County, as well as Pike and Washington Townships of Indianapolis. Aspire's service area is a blend of urban in Indianapolis, suburban in Lebanon, Carmel, Noblesville, and Anderson areas, and rural in outlying portions of Boone, Hamilton, and Madison Counties. In total, the service area covered 704,321 Hoosiers in 2020.
The area is 51.5% female and 48.5% male. 25.6% of the population is under the age of 18. 62.3% of the population is between the ages of 18 and 64. 12.1% is 65 years or older. 90.5% of the population chooses "English" as their preferred language. 4% chooses "Spanish" as their preferred language. 4.5% of the population chooses another language as their preferred language. The population is 13.24% African American, 0.13% American Indian, 3.31% Asian, 78.06% Caucasian, 0.02% Hawaiian/Pacific Islander, 2.74% Multiple races, and 0.1% Other race. 5.47% of the population is Hispanic, and 94.53% is Non-Hispanic.
In terms of education, 7.04% of the population is without a High School diploma or equivalent. 21.81% of the population has a high school diploma or equivalent only. 18.86% have completed some college coursework, and 7.32% hold associate's degrees. 27.84% have completed a bachelor's degree, and 16.56% have completed a graduate or professional degree.
Those we serve and those we hope to serve in our geographic service area have several significant barriers to treatment. The primary barrier is transportation. The geographic area has limited and inconsistent public transportation. Non-traditional options, such as Uber or Lyft, present financial challenges to those we serve who are low income.
Another barrier to services is provider shortages. While not unique to Indiana, the state is among the worst performers in the country when it comes to mental health providers per capita. While Aspire does not turn away patients, providers are struggling with large caseloads, and managing new patients and getting them seen in a timely fashion is an ongoing challenge.
Lastly, the stigma of mental illness continues to persist in most parts of Aspire's service area. Residents are often afraid to seek services, unaware of what services may exist, or don't know how to properly access care.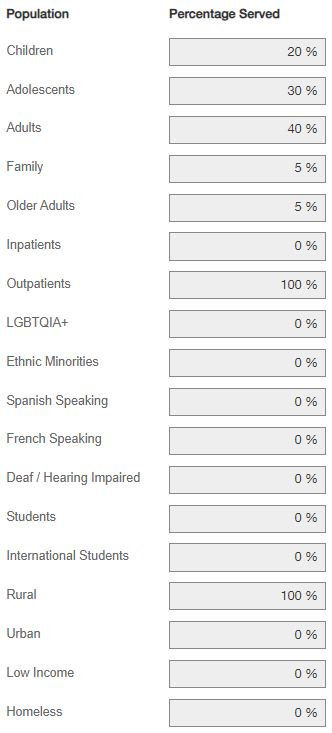 Site Training Director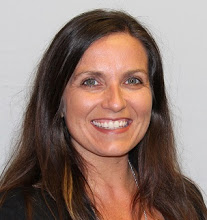 Sarah Dross-Gonzalez, Psy.D.
Dr. Dross-Gonzalez is a licensed psychologist in the State of Indiana and joined Aspire as Senior Director of Clinical Training in August of 2019.  She received her Psy.D. from the Chicago School of Professional Psychology and completed her pre-doctoral internship at Challenger/Bridgeview Therapeutic Day School, in Illinois. Dr. Dross-Gonzalez' theoretical orientation centers around CBT.
Primary Supervisors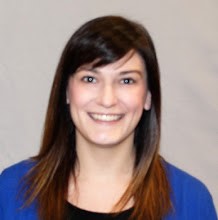 Joanna Will, Ph.D.
Dr. Will is a licensed psychologist in the state of Indiana. She completed her Ph.D. from the University of Virginia and her pre-doctoral internship at New York University – Bellevue Hospital Center & Kirby Forensic Psychiatry Center. Dr. Will has extensive experience and knowledge in forensics and working with individuals with complex and severe mental illness. Her theoretical orientation is integrative, but she specializes in internal family systems (IFS), dialectical behavior therapy (DBT), and relational psychodynamic treatment.
Shannon Moran, Psy.D.
Dr. Shannon Moran has her Psy.D. in Clinical Psychology from the University of Hartford. While enrolled in school, she completed the Child and Adolescent Proficiency Track. Dr. Moran has experience with youth, families, and adults in a variety of settings including inpatient, residential, home-based, and outpatient community mental health. Dr. Moran uses both a humanistic approach and cognitive behavioral therapy in her work with clients.
Alyssa Kregloh, Psy.D.
Dr. Alyssa Kregloh completed her Psy.D. from Nova Southeastern University and her pre-doctoral internship through Park Center and is licensed in the state of Indiana. Dr. Kregloh's training background is as a generalist and she has experience working with all ages and a wide range of presenting problems. She enjoys working with "nerd therapy", utilizing client's interests in video games, board games, and pop culture to help connect with clients, develop meaningful coping skills, and create a life worth living. Her theoretical orientation is integrated, with a heavier focus on Acceptance and Commitment Therapy. She also has training in CBT, CPT, and some experience in teaching DBT skills.
Life in Indianapolis, IN and Noblesville, IN…
The "Crossroads of America," Indianapolis is one of the largest cities in the U.S. famous for its livable neighborhoods, low cost of living, rich cultural offerings and sports iconography. The strong economy continually outpaces the nation's and is known as a major Midwest tech hub. Whether you like living in a downtown skyscraper, in one of the many historical suburb communities or commuting straight from the farmland, Indianapolis gives its Hoosier residents the opportunity to embrace the lifestyle they want.
Noblesville used to be one of the Midwest's best-kept secrets, but no longer as it continually pops up on regional and national lists of best places to live. This "hipstoric" suburb of Indianapolis boasts a walkable downtown filled with restaurants and boutiques, as well as expansive, lush parks and recreation spots, including a major concert venue. Noblesville is also growing as an economic market all on its own as more companies invest in the community.
Note: Interns moving to Indiana will need to get their license plates switched to Indiana plates per state guidelines. Read more here.
Annual Pay, Benefits, and Support
Annual Pay for the 2024-2025 Training Year:  $32,000
Benefits provided at this site include:
112 hours of PTO (vacation / sick leave)
24 hours of Professional Development
Discounted health insurance
Vision insurance
Dental insurance
Life Insurance
Short/Long term disability
Flexible spending accounts
403(b) (no employer contribution unless intern stays on beyond a year)
Employee Assistance Program (free short-term counseling for intern or their family)
Jury pay
Free access to the Aspire health and wellness centers
Professional liability insurance (for those not already covered)
Aspire Indiana observes the following 9 holidays:
New Year's Day
Martin Luther King Jr. Day
Memorial Day
Independence Day
Labor Day
Thanksgiving Day
Friday after Thanksgiving
Christmas Eve
Christmas Day
Interns with Aspire Indiana will have a mobile device provided to them for accessing the medical record, responding to email, and completing web-based training. Interns will be given access to select, targeted APA Databases & Electronic Resources. Each office is staffed with a support associate team that handles scheduling and day-to-day operations, as well as an array of clinical staff. These include care coordinators, therapists, psychologists, psychiatrists, nurse practitioners, and medical assistants. All staff and interns have a company email, access to the Relias Learning Management System for web-based training, and access to Aspire's electronic medical record, Medinformatix. Interns are also given access to psychological testing instruments, along with supervision of test administration, scoring, and integrated report writing during the training year. Technical support is available to all staff, including resources for audio/video recording of service contacts for training purposes.
Please note that available benefits and observed holidays are subject to change. Matched interns will receive full benefit orientations at their site which will go over all benefit information for the training year. More information about the Support and Benefits offered in each of our regions can be found here.
Employment Requirements
All employees of Aspire are required to receive the COVID-19 vaccine or an approved exemption prior to their start date.
Criminal history and background check are required, and the applicant must authorize the background investigation in writing using the Company form provided for that purpose. Provision of authorization is a condition of employment.
The following criminal history, background, and record checks may be conducted:
Identity Verification
Prior Employment Verification
Reference Checks
Education Verification
License/Registration/Certification Verification
National, State, and Local Criminal Records Search
Driver's License/Motor Vehicle Records Search
Automobile Liability Insurance Verification
Sex and Violent Offender Search
Child Protective Services Search
The following factors will be considered in hiring or retaining employees with a criminal conviction history: the nature of the crime and its relationship to the position; the ability of the individual to provide services pursuant to Company contracts, state or federal laws, or any other policies or regulations, the time since the conviction; the number (if more than one) of convictions; and whether hiring, transferring, promoting, or retaining the applicant or employee would pose an unreasonable risk to the business.
The applicant will be given an opportunity to review the criminal background check results and submit an explanation. If any applicant is found to have falsified any information regarding conviction history or any information provided, the applicant will not be considered for employment.
Crimes barring employment at certain health care facilities: Under Indiana law (Code Sec. 16-28-13 et seq.) Aspire Indiana, Inc., as a health facility, may not knowingly employ a person if his/her criminal history indicates a conviction for:
Sex crimes
The exploitation of an endangered adult
Failure to report battery
Neglect
Theft (if the individual's conviction for theft occurred less than five (5) years prior)
 Murder
Voluntary manslaughter
Involuntary manslaughter within the previous five (5) years
Felony battery within the previous five (5) years
Felony offense relating to controlled substances within the previous five (5) years
Intern Selection Process
Aspire Indiana is seeking interns who have a strong interest in working in a community mental health and integrated primary care settings as a career goal. We seek interns who wish to be whole-health providers. Ideal applicants would be welcoming of the challenges associated with serving people from diverse backgrounds, lower socioeconomic status, and complicated behavioral/primary health presentations. Aspire's treatment philosophy is rooted in SAMHSA's model of psychiatric recovery, and we use a person-centered approach for engaging/treating those we serve. Interns seeking to work in a team-based, collaborative, multidisciplinary setting that includes psychiatrists, therapists, care coordinators, and primary care providers are encouraged to apply.
Applicants will be screened by the Training Director, in consultation with the primary supervisors. Interviews will be conducted by the Training Director, and interns will be selected by the Training Director in consultation with primary supervisors. Interviews can be face-to-face or by videoconference. Receipt of a master's degree (rather than education equivalent) is required at this site. Preference will be given to students who envision practicing in Indiana, as we hope that interns will look for employment opportunities at Aspire Indiana following the completion of their training.
Interview Process
Internship interviews are conducted virtually with the Training Director, lasting approximately 45 minutes. These will be scheduled on an individual basis with selected candidates. Current interns also hold a Q&A session with potential candidates to hear about their experience and ask any questions.
COVID-19 Response
Aspire Indiana follows CDC guidelines for COVID-19 safety protocols. All employees of Aspire are required to receive the COVID-19 vaccine or an approved exemption prior to their start date. Office locations continue to have extra cleaning protocols on a regular basis, they have implemented hand sanitizing stations, and all staff temperatures are checked at the door. Everyone is required to wear masks in all locations regardless of vaccination status. At this time interns are providing both in-person and teleheath services from the office as well as some work from home. While protocols have been trending toward bringing interns and staff back into the offices to provide in-person and telehealth services, with the recent increase in COVID-19 cases there is the possibility of a need to return to a fully work from home scenario. Aspire is continuously reviewing and updating regulations based on CDC and Department of Health recommendations.