Match # 192511 (Springfield, MO)
Internship positions available: 6
Residency/Job positions available: 5
About This Rotation
Burrell is proud to offer a broad, generalist training program based in Springfield, Missouri. All of our Traditional Track interns will spend time providing intake assessments, outpatient therapy, and outpatient psychological evaluations. In addition, interns will have a variety of supplemental opportunities available to them. These vary from year to year and in the past we have been able to offer multidisciplinary training in our Autism Center, Youth Focus Clinic (i.e., ADHD clinic), participation on our Dialectical Behavior Therapy (DBT) consultation team, adult and youth substance use recovery services, neuropsychological assessment, outpatient eating disorders treatment, program development, and so forth.
It is our goal to help our interns build a strong, generalist foundation that will serve them well as they pursue careers in community mental health, primary care behavioral health, and beyond. We see this training year as an investment in our workforce development and we hope to retain our interns as postdoctoral residents and long-term colleagues.
Training Opportunities
Burrell provides a wide range of training opportunities due to its comprehensive continuum of care. The most common disorders treated across locations include Depressive Disorders, Anxiety Disorders, Bipolar and Related Disorders, Attention-Deficit/Hyperactivity Disorder, Autism Spectrum Disorder, Posttraumatic Stress Disorder, and Schizophrenia Spectrum and Other Psychotic Disorders. Our administrative team, staff, and supervisory psychologists are welcoming and encouraging to interns and other trainees in a number of ways, including providing welcome lunches, regular professional socialization opportunities, and a generally supportive and developmental supervisory approach.
Rotation Schedule
Interns in these internship positions will generally work an 8:00 AM – 5:00 PM work schedule. While intern's time commitment will typically be daytime, it is possible that periodic travel or clinical needs will require working later than 5:00 PM (e.g., evening groups). The intern will not be required to work on Saturdays or Sundays. Interns may also be required to travel between multiple locations based on need and intern rotation interests (mileage reimbursement available). Interns are scheduled for 40 hours per week and are not allowed to work overtime without advanced approval from the training director.
Example Schedule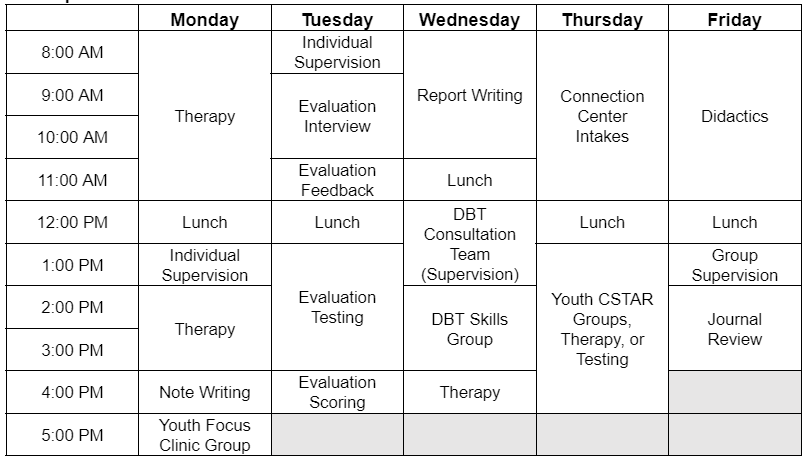 Please note that not every experience is identical and site schedules are a general guideline. Interns may be required to make themselves available at other times as needed. What is provided above is an example of what the work week might look like for an intern at this site.
Placement Locations
Currently, most intern services are completed at our main campus at 1300 E. Bradford Pkwy in Springfield, Missouri. Some interns travel to other sites in Springfield, Nixa, Republic, or Branson for their psychological evaluations rotation or for specialty interest opportunities (e.g., DBT team, substance use recovery services, residential services). We do not have Traditional Track interns placed in our Central Region (Columbia, Missouri area) for the 2022-2023 training year, nor do we expect to have them placed there for the 2023-2024 training year.
Title
Address
Description
Link
APPIC Training Experiences
Treatment Modalities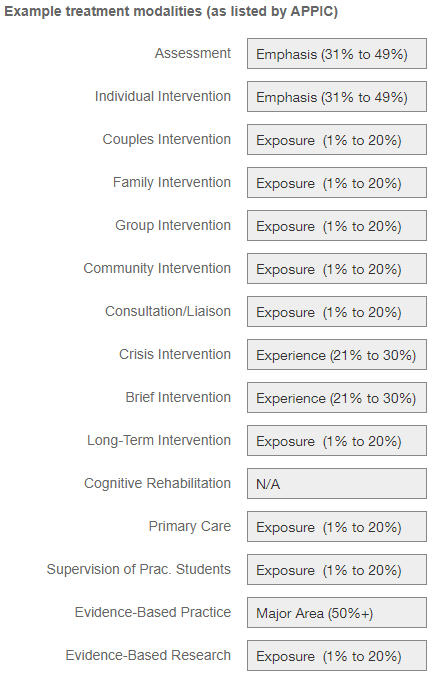 Supervised Experiences
Traditional Track interns will provide outpatient therapy, psychological evaluations, and intake assessments for clients with Medicaid, self-pay (including sliding scale), and grant-funded payor sources. Primary reasons for psychological evaluation referrals are diagnostic clarification and treatment planning. Interns may treat and evaluate clients across the lifespan and with a wide range of mental health concerns, though common differential diagnoses are mood disorders, anxiety disorders, neurodevelopmental disorders (e.g., ADHD and Autism), trauma (PTSD), learning difficulties, interpersonal difficulties or personality disorders, behavioral concerns, substance-use disorders, and schizophrenia spectrum or other psychotic disorders. Interns will provide services to clients across the lifespan. We understand not all intern applicants will have had exposure to working across the lifespan in all service lines (e.g., individual therapy, group therapy, psychological evaluations, intakes) and we will provide the necessary training and supervision to help everyone reach competence in their assigned service lines by the end of internship.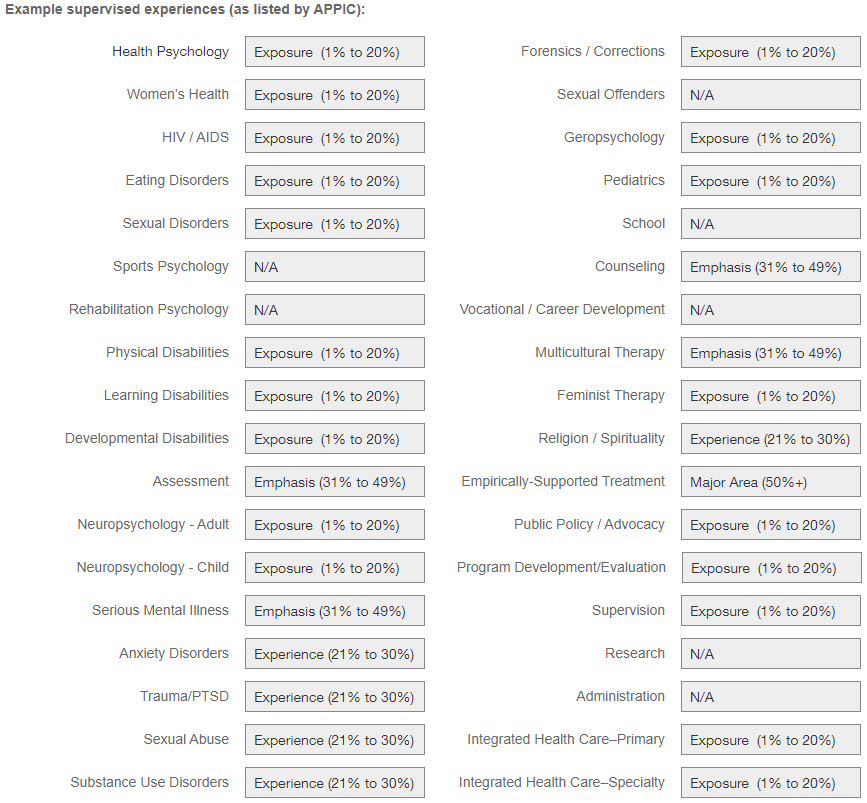 ​
Patient Populations

Springfield is the third largest city in Missouri. Although our population is fairly racially and ethnically homogenous, we continue to create a Burrell culture firmly rooted in safety, trust, connection, valuing others, accessibility, excellence, integrity, compassion and inclusion of all. These efforts are echoed on our community through a variety of social groups, supportive organizations, festivals, and investment in arts and education. This location offers training experiences for clients in very rural populations with limited access to resources, as well as those who live and work in town. Training on rural culture and Ozarks culture is an important component of intern education and providing excellent client care. Additionally, this region continues to be relatively heavily impacted by poverty, as evidenced by the high Medicaid population and the high free/reduced lunch proportions in public schools.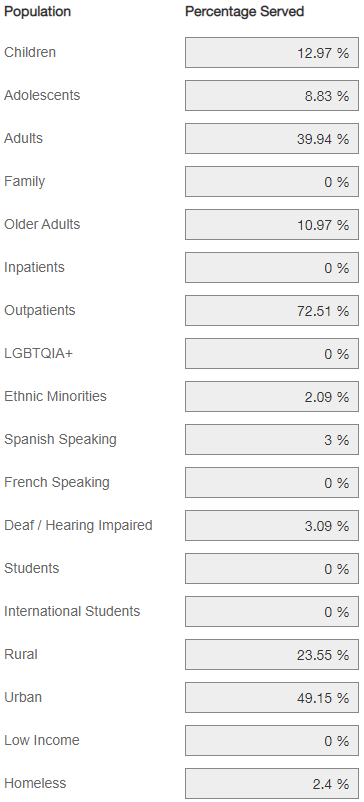 Our Supervisors
While we won't know your exact supervisor assignments until the internship starts, these are examples of some of the individuals you may work with over the course of your year at the site. 
Seth Allen, Ed.D.
Seth Allen is a Psychologist and Director of the Autism Center at Burrell Behavioral Health. He received his doctorate in Counseling Psychology from Boston University in 2007, and has been working as a psychologist in Missouri since 2007. Seth has worked with a variety of populations and ages in multiple settings, including at various outpatient community counseling locations at Burrell, and the inpatient psychiatric and medical hospital at Mercy. Over the years, he has provided outpatient counseling services to individuals with a wide range of diagnoses and conditions, including those with psychiatric, developmental, and substance abuse diagnoses. Also, Seth has extensive experience providing comprehensive psychological evaluations, with a sub-specialty in Autism Evaluations for youth through adulthood. He became the Director of the Burrell Autism Center in April of 2019, where he helps operate a diagnosis team as well as groups of treatment providers, which include Applied Behavior Analysis, Occupational Therapists, and Speech-Language Pathologists. 

Chelsie Black, Psy.D.
Dr. Chelsie Black, PsyD earned her doctorate degree in clinical psychology from The Wright Institute in California in 2016 and her master's degree in clinical psychology from Forest Institute of Professional Psychology in Missouri in 2013. She completed her pre-doctoral internship through Frontier Health in Tennessee/Virginia in 2016 working with young children and adolescents providing individual and family therapy as well as psychological evaluations in a rural community. She completed her post-doctoral residency at Burrell Behavioral Health in 2018, providing autism evaluations, individual therapy, and working alongside with other providers in the Children's Day Treatment program. She continues to provide services through Burrell Behavioral Health in the Burrell Autism Center. Dr. Black has an interest in working with toddlers and young children providing comprehensive autism evaluations on a multidisciplinary diagnostics team and helping families connect with services that will meet the child and family's needs. Dr. Black primarily provides developmental assessment services to children ages 18 months to 9 years of age. In addition, Dr. Black provides family centered therapy for toddlers and young children ages 1-4 with a diagnosis of Autism and their parents. This consists of parent coaching sessions targeting social communication delays, emotional regulation, adaptive functioning, and behavioral problems.
Angelique Butler, Psy.D.
Dr. Butler obtained her bachelor's degree in psychology at Missouri Southern State University in Joplin, Missouri. She earned her doctoral degree in clinical psychology at Forest Institute of Professional Psychology in Springfield, Missouri and a postdoctoral master's degree in clinical psychopharmacology from Alliant International University in San Diego, California. She completed her internship at the Division of Youth Affairs in West Palm Beach, Florida and her postdoctoral residency at the Pomme de Terre Wellness Clinic in Bolivar, Missouri. Dr. Butler's current clinical interests include telehealth services, psychological evaluations, and supervision. She currently provides psychological evaluation services to ages 6+, initial eligibility determinations, and telehealth training services at Burrell Behavioral Health.
Chelsea Gilliam, Psy.D.
Chelsea Gilliam began her journey in clinical psychology by obtaining her bachelor's in psychology at Lyon College in Batesville, Ark. She earned a Masters in Mental Health from Mississippi College in Clinton, Miss. and then her PsyD in clinical psychology at Forest Institute of Professional Psychology in Springfield. It was at Forest Institute where Chelsea became interested in behavioral health integration and completed her dissertation on the correlation between infertility and shame. She completed internship locally within the National Psychology Training Consortium and completed residency at Burrell Behavioral Health from 2014-2015. Chelsea continued her interest in integration at Jordan Valley Community Health Center where she developed and implemented an integrated pain management program. After searching for more opportunities for program development, Chelsea returned to Burrell in 2018 as part of the fast-growing integration team. Chelsea is currently the System Director of Adult Integration at Burrell where she provides oversight of integrated care projects at local health centers and college campuses across the region.
AnnElise Parkhurst, Ph.D.
Dr. AnnElise Parkhurst attended the University of Missouri at Columbia and has practiced psychology on the doctoral level since 1990. She has delivered both individual and group psychotherapy to a wide range of clients, experiencing everything from adjustment disorders to psychoses, in community mental health and hospital settings. In 1996 she joined the faculty of Forest Institute of Professional Psychology where she focused on teaching clinical psychology and providing clinical supervision for practicum students and psychology interns. She additionally served there as the Director of Clinical Training (2004 – 2008) and the Director of the Internship program (2004- 2012). Her specific interests include interpersonal/psychodynamic psychotherapy and group therapy and clinical supervision.
Molly Six, Ph.D.
Dr. Molly Six earned her bachelor's degree in psychology from Central Michigan University. She earned her master's and doctorate degrees in counseling psychology from Western Michigan University. Dr. Six has been fully licensed as a psychologist in Missouri since 2018. Dr. Six's clinical and research interests include: eating disorders, the psychological impact of racism, racial identity development, LGBTQ concerns, women's issues, interpersonal attachment, and interpersonal therapy. Dr. Six currently provides outpatient therapy services to adolescents and adults (ages 12+). In addition to her role as a licensed psychologist, Dr. Six is an administrative supervisor to a team of outpatient clinicians.
Phil Swope, Psy.D.
Philip Swope received his degree in clinical psychology from Spalding University in Louisville, Kentucky. He completed his internship and postdoctoral year at Burrell Behavioral Health. He has been fully licensed as a clinical psychologist since March of 2019, and his clinical work has focused on college-aged students from diverse backgrounds. He helped to develop a hybrid integrated/traditional setting at Drury University, a local private college in the heart of Springfield, Missouri. He is interested in further developing integrated care programs, involvement in community outreach, sports psychology, solution-focused therapy, and diagnostic evaluations, all in an effort to bring an integrated solution to a university setting.
Kristen Thompson, Ph.D.
Dr. Kristen Thompson received her degree in clinical psychology in 2016 from Northern Illinois University, where she earned a special emphasis in child psychology and conducted research on interpersonal violence and mindfulness. She completed internship at the University of Michigan Mary A. Rackham Institute prior to specializing in pediatric psychology during a fellowship at Children's Mercy Hospital, where she worked closely with medical providers in the hospital and in integrated specialty and primary care clinics, providing services to patients with chronic health conditions, traumatic injuries, and developmental and behavioral health disorders. Dr. Thompson joined Burrell Behavioral Health in 2017 and is currently the System Director of Pediatric Integration. She works with community partners to expand access to behavioral health care for children by pairing behavioral health services with the health care children are already receiving. Dr. Thompson is also the director of Burrell's Youth Focus Clinic, which provides multidisciplinary care to children and adolescents with ADHD.
Lindsay Vo, Psy.D.
Dr. Vo earned her doctorate in clinical psychology from William James College in Boston, Massachusetts, and completed more than two years of post-doctoral, specialized training in clinical neuropsychology. She currently provides comprehensive neuropsychological evaluation services to adults and older adults. The most common referral questions she receives, include dementia, traumatic brain injury/concussion, ADHD, movement disorders, and learning disabilities. She is the co-chair of the Vietnamese Neuropsychology Network and is an active member of the Asian Neuropsychological Association, National Academy of Neuropsychology, and International Neuropsychological Society, with the hopes of improving culturally competent neuropsychological assessment. Other interests include therapeutic feedback, cognitive rehabilitation, and assessment of noncredible task engagement.
Life in Springfield, MO
Springfield, known as the Queen City of the Ozarks, is the state's third largest city. Located in scenic southwest Missouri, Springfield is home to a metro population of more than 450,000, encompassing five counties: Greene, Christian, Webster, Polk, and Dallas.

A "big, small town," Springfield is a regional hub with large city amenities and small town hospitality. It offers a great blend of fascinating attractions, historical treasures, sports excitement, and cultural and leisure activities in a welcoming environment. Through the Springfield-Greene County Park Board, the city offers 102 parks and Ozarks Greenways, a linear trail system that integrates with the city's growing on-street bike route system. Springfield also boasts an airport; an art museum; a zoo; a professional tennis team; a minor-league baseball team and is home to Bass Pro Shops and Johnny Morris' Wonders of Wildlife Museum & Aquarium (the largest and most immersive fish and wildlife attraction in the world), Missouri State University, Drury and Evangel universities, Ozarks Technical Community College and two nationally recognized Top 100 Integrated Health Systems.
 
Springfield Public Schools is Missouri's largest fully accredited school district. More than 24,000 students attend 36 elementary schools, an intermediate school (grades 5-6), nine middle schools, five high schools, Phelps Center for Gifted Education, and an Early Childhood Center.

Springfield has a diverse culinary scene with casual dining, a thriving craft brewery industry, and upscale bars and restaurants. It offers great shopping with the mall, boutiques, and unique small businesses. The city maintains a talented arts community dating back to the early 1900s, offering a symphony, a community theatre, an art museum, a ballet company, a regional opera, and a public art and sculpture tour.

If you're considering relocating to Springfield, visit LiveInSpringfieldMo.com. Visiting Springfield for the first time? Take a look at our tourism site, SpringfieldMo.org. (Primary source: https://www.springfieldmo.gov/)