192516 – Compass Health Outpatient: Central Region
Intern Positions: 1
About These Rotations
Compass Health's outpatient internship placements are divided into regions, as all outpatient offices offer the same core internship experiences, with additional possible experiences variable by location (see below). Specific office locations will be assigned following the internship Match. Each office is equipped with the testing and training materials necessary for the interns to complete the requirements of their training year.
Potential office locations within this region include:
Columbia – Woodrail
Columbia – Berrywood
Columbia – Portland 
Jefferson City – Metro
Jefferson City – Stadium
Training Opportunities
Primary experiences at all Compass Health sites include:
Outpatient Therapy – Individual, Family, and Couples (when available)
Psychological assessment
Additional experiences are listed below, along with the offices at which they may be available. An average of 15 intervention hours per week is expected and a minimum of ten psychological evaluations are completed during the training year. Services provided range from brief individual or family counseling dealing with issues such as depression and anxiety to long-term care and support for adults with serious mental illness and children with serious emotional disturbances. Psychology interns at Compass Health sites utilize both hands-on training as well as web-based training programs. The agency offers a full training library of web-based programs for the interns and staff to access as they are able based on their licenses/interests.
Additional training experiences that are subject to location/availability include:
School-based therapy 
Group therapy (specific groups and schedules vary)
Rotation at a Crisis Access Point (24-hour crisis center; located in Jefferson City)
Training in Autism Spectrum Disorder assessment with the ADOS-2 
Adolescent Substance Use Residential Facility – Navig8 
Women and Children's Center 
Rotation Schedule
Interns with Compass Health will generally work a Monday – Friday schedule from 8:00 am – 5:00 pm each day. No weekend work or after-hours on-call is required. Interns at this location will spend all their time in their assigned outpatient office(s). Daily schedules will vary based on intern interest and need, though a sample schedule is shown below.
Example Schedule

Please note that not every experience is identical and site schedules are a general guideline. Interns may be required to make themselves available at other times as needed. What is provided above is an example of what the work week might look like for an intern at this site.
Placement Locations
Some didactic training may occur in Columbia or Jefferson City, near these office locations (within 40 minutes depending on placement). Each location in this region is approximately two to three hours from the didactic training sites in Springfield.  Offices that currently host interns include Columbia – Woodrail, Columbia – Berrywood.
Select "Compass Health – Central Region" in the map filter below to show only the locations specific to this track.
Title
Address
Description
Link
APPIC Training Experiences
Treatment Modalities
Example treatment modalities (as listed by APPIC):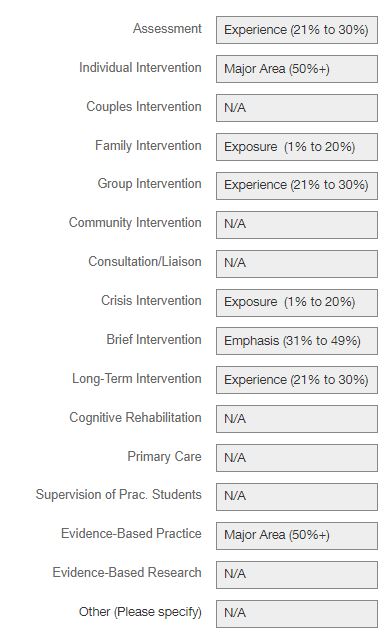 Supervised Experiences
Most commonly seen diagnoses at this office location include PTSD, major depressive disorder, anxiety disorders, various personality disorders, a variety of psychotic disorders, substance use disorders, and Autism Spectrum Disorders.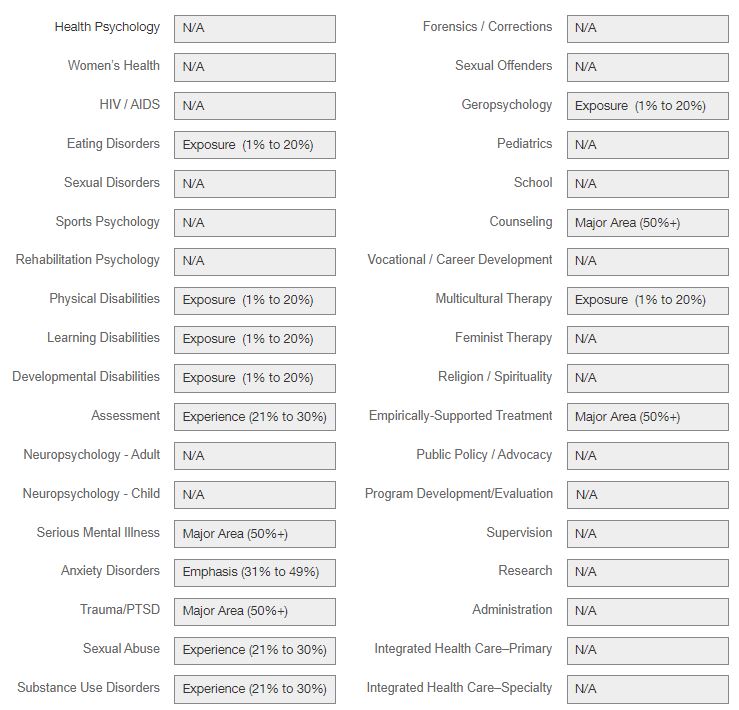 Patient Populations

Most Compass Health clients are Caucasian, chronically mentally ill, and/or lower SES. Patients at our locations often manage barriers such as transportation, cost, and childcare. Many of our areas served do not have public transportation, and thus the cost of a vehicle and gasoline, as well as car insurance, can cause difficulty. In addition, many of our clients do not have access to affordable childcare, which is also a barrier to them receiving treatment.
Our larger offices tend to be closer to larger cities, and as a result serve a more diverse clientele with higher levels of education and SES. We serve the lifespan with respect to therapy and assessment. The following table shows a breakdown of some patient demographics across the agency from 2022-2023: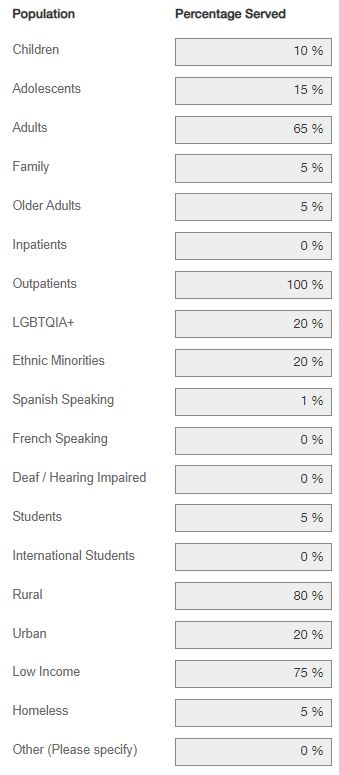 Our Supervisors
While we won't know your exact supervisor assignments until the internship starts, these are examples of some of the individuals you may work with over the course of your year at the site. 
Michaela Muehlbach, Psy.D.
Vice President of Outpatient and Psychological Services
Dr. Muehlbach earned her degree in Clinical Psychology in 2011 at Forest Institute of Professional Psychology, receiving her master's en route (with certificates in Integrated Health Care (IHC) and Marriage and Family Therapy (MFT)). She completed her internship and post-doctoral residency at Pathways Community Health in Rolla, MO. She has training and experience in a variety of settings, including community mental health, residential treatment, inpatient, and FQHC. She has developed a specialty interest in psychological assessment, working with both children and adults. She currently has the honor of serving as Vice President of Outpatient and Psychological Services. Dr. Muehlbach has had the opportunity to provide supervision to advanced doctoral and master's level practicum students as well. She also has experience providing individual, family, group, and couples counseling. Her theoretical orientation emphasizes aspects of interpersonal, cognitive-behavioral, and person centered approaches, while utilizing a multicultural lens to provide further understanding of her clients.
Jessica Ashley, Psy.D.
Senior Director of Outpatient Services
Dr. Ashley earned her doctoral degree in Clinical Psychology in 2016 at Wright Institute, receiving her master's in Marriage and Family en route. She completed her internship and post-doctoral residency at Compass Health Network in Rolla and Columbia, MO. She identifies as a Generalist and has experience providing psychological assessment and therapy in a variety of settings, including community mental health, college counseling, and private practice. Her specialty interest is in psychological assessment with all ages, for a variety of presenting issues, with specialty training areas including Autism Spectrum assessment, DBT, couples therapy, and neurofeedback. Her theoretical orientation can be described as Systemic in theory and CBT in practice. Dr. Ashley has been providing supervision since 2017 and also serves as the Senior Director of Outpatient Services.
Tosha Larson, Ph.D.
Director of Psychology and Outpatient Services, Columbia
Dr. Larson is a licensed psychologist in the state of Missouri. She has had training and experience in a variety of settings, including community mental health, university counseling, residential treatment, inpatient, and private practice. She has developed a specialty interest in psychological assessment, working with children and adults. Her current work focuses primarily on comprehensive psychological assessment of intellectual and cognitive processing, academic achievement, disability determination, autism spectrum, mood, anxiety, and personality. Further, in her training, she has had the opportunity to provide supervision to advanced doctoral and master's level practicum students. She has also had experience providing individual, family, group, couples, and career counseling. Additionally, she is passionate about issues of diversity, activism, and social justice, and especially enjoys working with the LGBTQ community. Her theoretical orientation includes a combination of person-centered, CBT, and multicultural, and her research interests include positive psychology and gratitude.
Amy Meriweather, Ph.D.
Psychology Trainer & Supervisor, Wentzville
Dr. Meriweather earned her Ph.D. in Clinical Psychology from California School of Professional Psychology – San Francisco in 1996. She completed her internship at Children's Hospital – Los Angeles, and her residency at Burrell Behavioral Health in Springfield, MO. She has experience across a range of settings, including leadership coaching, teaching, consulting, research, creation of various curricula for the community and professionals, health psychology, integrated care, and psychological assessment.
Taylor Montgomery, Ph.D.
Staff Psychologist, Wentzville
Dr. Taylor Montgomery completed her Masters of Science degree at the University of Kansas in Counseling Psychology. She then attended Saint Louis University where she earned her Ph.D in Clinical Psychology with a research emphasis in health, performance, and sport psychology. Dr. Montgomery completed her pre-doctoral internship in St. Louis at the University of Missouri-St. Louis Psychology Consortium. Dr. Montgomery has a generalist training background and has clinical experience in a variety of settings including university counseling centers, athletic departments, business consulting settings, community mental health agencies, trauma centers, adult and child inpatient hospitals, and residential treatment facilities. Dr. Montgomery enjoys utilizing her skills in various activities including conducting individual and group therapy, administering psychological testing, supervising, and consulting. At Compass Health, Dr. Montgomery provides direct clinical services to clients through therapy and testing. She also provides supervision to pre-doctoral students and practicum students. Dr. Montgomery adopts an integrated approach that includes aspects from interpersonal therapy, emotion-focused therapy, acceptance and commitment therapy, CBT, and mindfulness.
Jaedyn Bonner, Ph.D.
Provisionally Licensed Psychologist
Dr. Bonner completed her pre-doctoral internship at Compass Health Network during the 2020-2021 internship year. She received her B.S. in psychology from Howard University in Washington, DC in 2016 and went on to receive her Ph.D. in clinical psychology from Jackson State University in Jackson, MS in 2021. Dr. Bonner utilizes a Cognitive Behavioral Therapy approach with many of her clients while also utilizing multiple other theoretical orientations based on clients' needs. Additionally, Dr. Bonner has training in Dialectical Behavior Therapy (DBT) and is a co-leader of the Wentzville office's first adolescent DBT skills group. Along with CBT and DBT, Dr. Bonner has also been trained in trauma treatment approaches (e.g., Written Exposure Therapy) and continues to use evidence-based approaches for trauma treatment (e.g., Cognitive Processing Therapy). She also conducts psychological assessment with individuals across the lifespan for a variety of presenting problems (e.g., personality, cognitive, ADHD). Dr. Bonner also assists in the clinical and professional development of pre-doctoral interns and practicum students at Compass Health.
Neha Batool, Ph.D.
Staff Psychologist
Dr. Batool earned her doctoral degree in Counseling Psychology in 2021 at the University of North Dakota. She completed her internship at Compass Health Network in Columbia, MO and is currently completing her post-doctoral residency. Dr. Batool embodies a multicultural and integrative approach in providing clinical supervision, psychotherapy, and testing services. Her passion for research and advocacy is centered around the issue of forced marriages in the United States and its lack of awareness in the field of mental health. Through her dissertation research, she hopes to advocate for re-conceptualizing forced marriages beyond race, age, culture, and religion to effectively address serious mental health challenges and stigma against immigrant communities.
Halie Hamilton, Ph.D.
Staff Psychologist
Dr. Hamilton earned her doctoral degree in Clinical Psychology in 2022 at Central Michigan University. She completed her internship and post-doctoral residency at Compass Health Network in Columbia, MO. Dr. Hamilton is a generalist who works with all ages and focuses on use of evidence-based practices. She has had specialty trainings in DBT and PCIT. Dr. Hamilton's experience in assessment ranges across the lifespan, and she has recently begun specializing in autism assessment. She leads an ADOS-2 specialty consultation group and serves as a Regional Autism Psychologist Leader for the central region.
Beth McCadden, Ph.D.
Staff Psychologist
Dr. Beth McCadden (pronouns she, her, hers) is a licensed psychologist who has been with Compass Health Network since 2018, where she began as a provisional licensed psychologist. She earned her master's degree in Community Counseling from Marquette University, and a Ph.D. in Counseling Psychology from the University of Utah. Dr. McCadden completed her clinical internship at Brigham Young University's Counseling and Psychological Services, and a post-doctoral residency at the Counseling Center at the University of Wisconsin – Milwaukee. Dr. McCadden works with adult clients using a cognitive behavioral framework while incorporating interventions from various evidenced – based treatments. She is trained in CBT, DBT, CPT, and FMT (Feminist – Multicultural therapy). Dr. McCadden specializes in working with and advocating for members of the LGBTQ+ population, individuals impacted by racial injustices, and survivors of sexual trauma. In addition to providing psychotherapy services, Dr. McCadden thoroughly enjoys providing supervision to graduate students across all levels of training.
Central Region
Columbia is a town of about 110,000 (plus the MU student population). It is about a 30 min drive to Jefferson City (the state capital) and a 2 hour drive to either St. Louis or Kansas City, conveniently located off of Interstate 70.
There are several nice apartment complexes and houses for rent in the Southwest area of Columbia. Kelly complexes are highly recommended: Kelly Ridge, Kelly Farms, and Kelly Highlands. This is also a great area for schools. Suggested living areas are south of Stadium Boulevard and west of Providence Road (southwest of MU); otherwise, commute times will increase significantly. There is a public bus system, as well as Uber and Lyft, but it would be very difficult to live in Columbia without a car.
To avoid noise and traffic in Columbia and Jefferson City, avoid living near campus, the capitol, and downtown.
Ashland is a small community, approximately 3,000 people, and doesn't have much in the way of restaurants or shopping—but it makes up for it with being quiet and quaint, with lots of open land and wildlife. Ashland is halfway between Jeff City and Columbia, the two largest cities in the area. Both JC and COMO have things that the other does not—restaurants, shopping, entertainment, arts districts, historical sites, so Ashland is popular for being equal distance from both. Ashland is also 15 minutes from I-70 (which will take you to Kansas City and St. Louis, both about 90-120 minutes away). There are many new subdivisions being built in Ashland, so the area has real estate available. The area does lack apartments for rent; however, there are houses available to rent.