Match# 192512 (Burrell @ CoxHealth)
Internship positions available: 1
About This Rotation
Burrell Behavioral Health has partnered with CoxHealth in Springfield, Missouri to offer a unique internship experience. CoxHealth is a large, not-for-profit health system with internship positions located in Springfield, Missouri. Internship positions through Burrell @ CoxHealth will have a range of opportunities for training including inpatient psychiatric, acute medical, telehealth, and integrated behavioral healthcare.
More specifically, interns in the inpatient psychiatric units will spend time on our adult units as well as our child-adolescent unit. They will be part of a treatment team that includes psychiatrists, psychologists, nurses, various therapists, and technicians. In both areas, interns can expect to be involved in individual, group, and/or family therapies. Training in the acute medical or rehab hospitals focuses on health-oriented psychology and interns will work with patients experiencing a variety of health conditions. These may be related to neurology, cardiology, oncology, obstetrics/gynecology, pediatrics, as well as emergency medicine and trauma. Interns will get the chance to work as part of a treatment team and collaborate with professionals in many other fields. Interns who seek training in integrated behavioral healthcare will be able to work with patients on a variety of factors including, but not limited to, lifestyle changes, management of chronic disease states, psychosocial risk factors, disease-related distress, and behavioral interventions related to familial or academic difficulties. Screening assessments, consistent with integrated behavioral healthcare practice, will also be a routine part of the training program. Interns will have opportunities to practice integrated healthcare in primary care, pediatric, and specialty care settings. Broadly, opportunities may also be available for interns to engage in tele-behavioral health for our rural, underserved clinics. Currently, all internship-applicable clinics are located in Springfield, Missouri. In addition, internship training programs are customizable (as time and coverage allows) based on an intern's training needs and wants.
Rotation Schedule
In general, interns will work from 8am – 5pm Monday through Friday. They will work 3 days per week at CoxHealth and 2 days per week at Burrell Behavioral Health. Work completed by the interns is reviewed and signed off on by the primary supervisor of their site.
APPIC Training Experiences
Treatment Modalities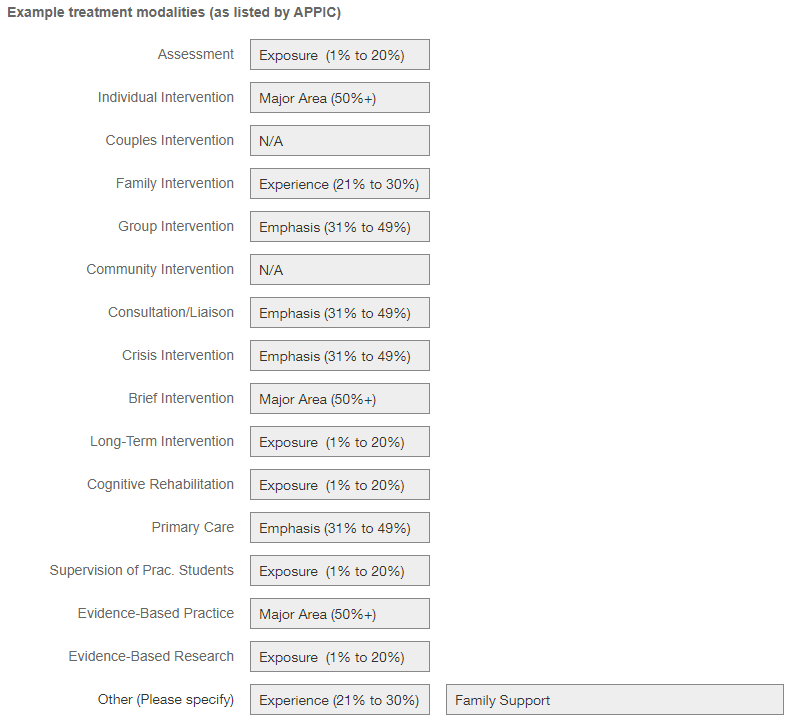 Supervised Experiences
The most commonly seen diagnoses/supervised experiences that interns can expect to be working with at this location include, but is not limited to, depression, anxiety, trauma (PTSD), acute distress due to medical issues, chronic disease management, severe mental illness, and major/mild neurocognitive disorder.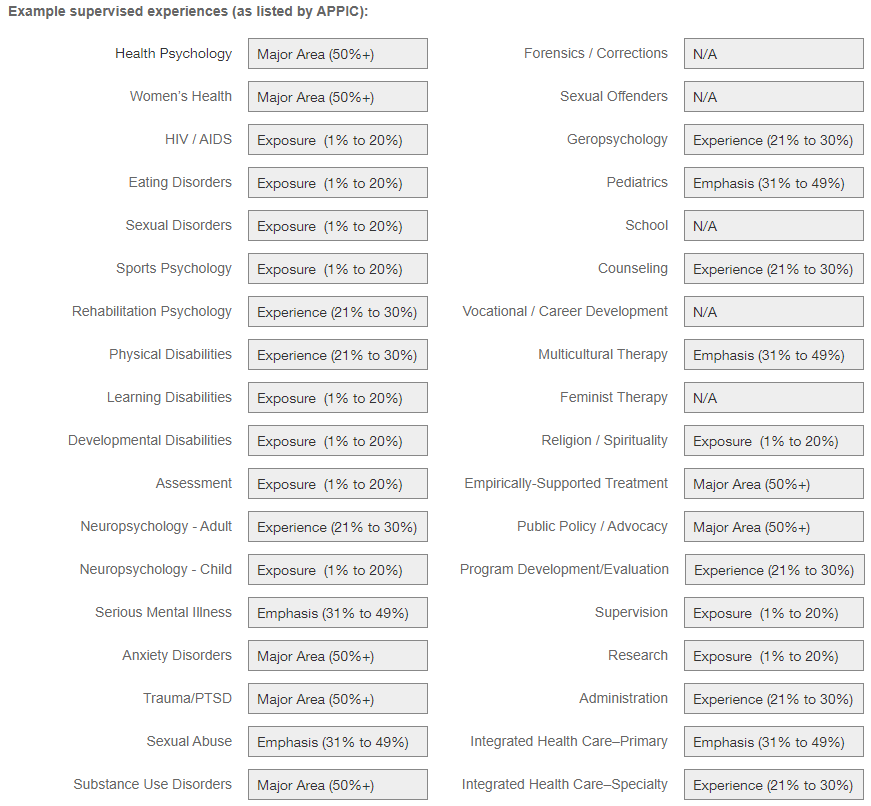 Patient Populations

Racially, our patient population tends to primarily be Caucasian, but there is a growing Hispanic/Latino population – particularly in the numerous suburbs of the Springfield metro area. There is a wide socioeconomic range in the area and poverty remains problematic, as evidenced by a large Medicaid/underserved population and high incidence of individuals who qualify for free/reduced lunches in public schools. The number of older adults is growing, as many people find southwest Missouri an ideal retirement spot; however, the presence of several universities and a thriving art scene means there are lots of entertainment and dining options to complement the natural scenery of the Ozarks and nearby Table Rock Lake.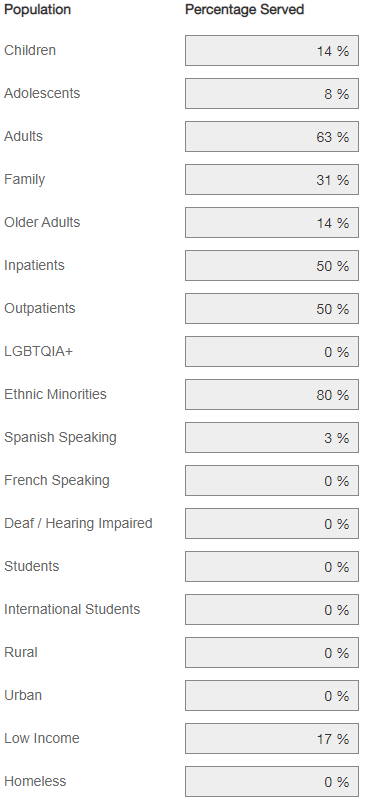 *Percentage data not available at this time for blank rows, however, these are populations served at this location.
Our Supervisors
While we won't know your exact supervisor assignments until the internship starts, these are examples of some of the individuals you may work with over the course of your year at the site. 
Chasity Arnold, PsyD
Dr. Arnold is a Licensed Psychologist and Health Service Provider in Missouri. She currently provides clinical and consultation services at CoxHealth in Springfield, Missouri with practice emphases in perinatal psychology and maternal mental health. She also works closely with families who have children in the Neonatal Intensive Care Unit and on the Pediatric floors in the hospital. She is passionate about progressing the field of psychology and provides training and supervision to students, interns, and residents at all levels. Dr. Arnold received her bachelor's degrees in Psychology and Criminal Justice from Southwest Baptist University, and both her master's and doctoral degrees in Clinical Psychology from the Forest Institute of Professional Psychology. She is a member of the Missouri Psychological Association as well as a member of Postpartum Support International.
Chelsea Gilliam, Psy.D.
Chelsea Gilliam, Psy.D.
Chelsea Gilliam began her journey in clinical psychology by obtaining her bachelor's in psychology at Lyon College in Batesville, Ark. She earned a Masters in Mental Health from Mississippi College in Clinton, Miss. and then her PsyD in clinical psychology at Forest Institute of Professional Psychology in Springfield. It was at Forest Institute where Chelsea became interested in behavioral health integration and completed her dissertation on the correlation between infertility and shame. She completed internship locally within the National Psychology Training Consortium and completed residency at Burrell Behavioral Health from 2014-2015. Chelsea continued her interest in integration at Jordan Valley Community Health Center where she developed and implemented an integrated pain management program. After searching for more opportunities for program development, Chelsea returned to Burrell in 2018 as part of the fast-growing integration team. Chelsea is currently the System Director of Adult Integration at Burrell where she provides oversight of integrated care projects at local health centers and college campuses across the region.
Life in Springfield, MO
Springfield is the state's third largest city. This location maintains a talented arts community dating back to the early 1900s, offering a symphony, a community theatre, an art museum, a ballet company and a regional opera. Springfield is also home to the recently opened Wonders of Wildlife Museum and Aquarium which is the largest and most immersive fish and wildlife attraction in the world. Next door to it is the Bass Pro Shops Outdoor World, a popular attraction in the state of Missouri for fisherman and hunters alike.