Royal Oaks Hospital - Windsor, MO
Compass Health - Warrensburg, MO
192521 – Compass Health: Dual Track with Royal Oaks Hospital
Positions: 3
About This Rotation

Interns in these positions will split clinical time between Royal Oaks Hospital and a Compass Health outpatient office. Specific outpatient assignments will be determined by the site following Match based on intern fit to office needs, with possible offices including Butler and Clinton.
Psychology interns utilize both hands-on training as well as web-based training programs at Compass Health and Royal Oaks Hospital. The agency offers a full training library of web-based programs for the interns and staff to access as they are able based on their licenses/interests. Interns are provided with office space complete with a computer and access to the internet and printer. Each location is equipped with the testing and training materials necessary for the interns to complete the requirements of their training year. Training experiences will be similar to full-time interns at both locations with the exception that they will be split time between inpatient and outpatient settings. For more information about the Royal Oaks Hospital portion of this experience, click here.
It should be noted that Butler and Clinton are approximately 2 hours from Springfield, Missouri, where interns must travel to quarterly in-person didactics (plus orientation).
Training Opportunities
At Royal Oaks Hospital, interns will provide inpatient services including individual, couples, group, and family therapy with children, adolescents, and adults. Interns at this location will also experience placements in child, adolescent, and adult inpatient units, psychological assessment, and psychiatric/medication management.
An average of 20 intervention hours per week is expected and a minimum of ten assessment reports are completed during the training year. A caseload of 4-6 patients will be carried on each rotation at Royal Oaks Hospital as well as family therapy, treatment team meetings, and conducting five to ten clinical groups per week. During some rotations, interns will participate as a member of a multi-disciplinary treatment team led by an Attending Psychiatrist. Other members of the treatment team include psychologists, registered nurses, licensed professional counselors, clinical social workers, expressive therapists, educators, utilization review staff and a clinical case manager. Interns not only present case conceptualizations but will also convey findings of psychological testing.
At their community site placement, interns will work in an outpatient office in Butler or Clinton. The primary focus will be working with a team of behavioral health providers to provide outpatient individual and family therapy with children, adolescents, and adults. Possible outpatient experiences that may be available include group therapy, psychological assessment, Dialectical Behavior Therapy consult team, and substance use disorder treatment.
Rotation Schedule
Interns will generally work a typical 8:00 am – 5:00 pm schedule on the two days they are in their outpatient placement. No weekend work or after-hours on-call are required. On days interns are placed at Royal Oaks Hospital, they will typically work an 8:30 am – 5:00 pm schedule except that once each month, interns will provide serves Friday evening and Saturday and/or Sundays. On this weekend, interns will work from 5:00 – 8:00 pm Friday and all day on Saturday and/or Sunday. On these weeks, interns will be given the Monday before or after the weekend off in exchange for working.
Please note that not every experience is identical and site schedules are a general guideline. The information provided below is an example of what the outpatient work week might look like for a dual-track intern. More details regarding the ROH experience can be found on their page.

APPIC Training Experiences
Treatment Modalities
Example treatment modalities (as listed by APPIC):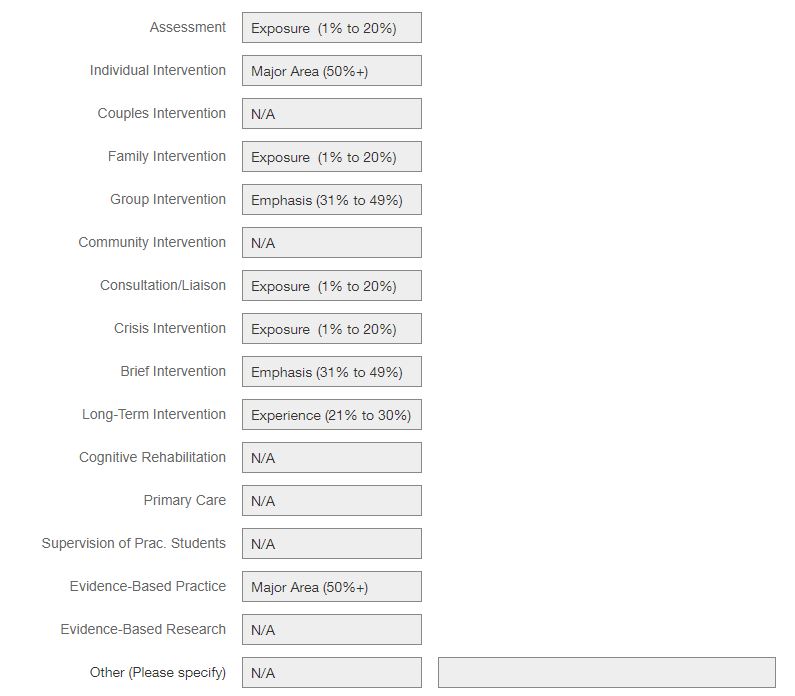 Supervised Experiences
Most commonly seen diagnoses in Compass Health's outpatient offices include major depressive disorder, anxiety disorders, substance use disorders, and PTSD, as well as various personality and psychotic disorders.
Example supervised experiences (as listed by APPIC):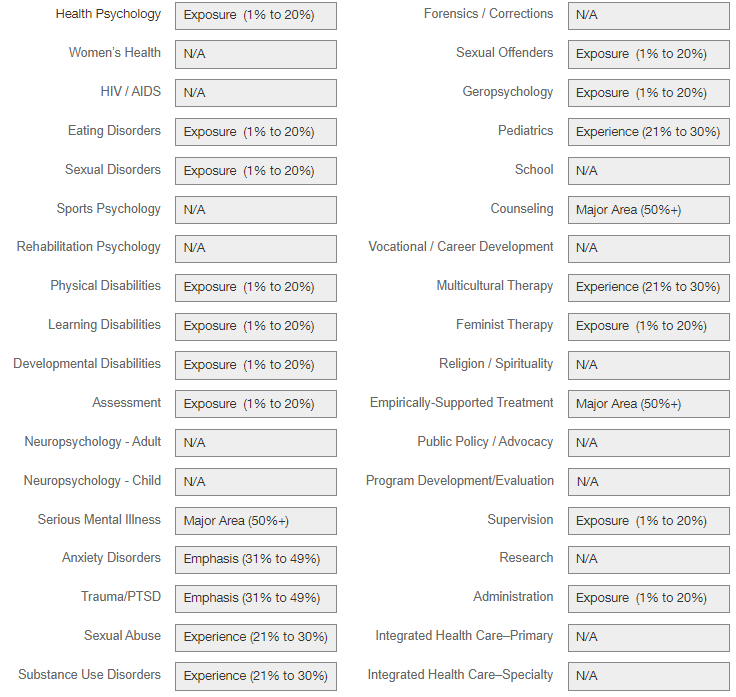 Patient Populations

Most Compass Health clients are Caucasian, experience chronic mental illness, and/or lower SES. Clients face a variety of treatment barriers, such as transportation, cost, and childcare. Many live in rural communities as well. We see clients across the lifespan with respect to therapy and assessment services. The following table includes estimates of patient demographics from the Butler outpatient office from 2022-2023: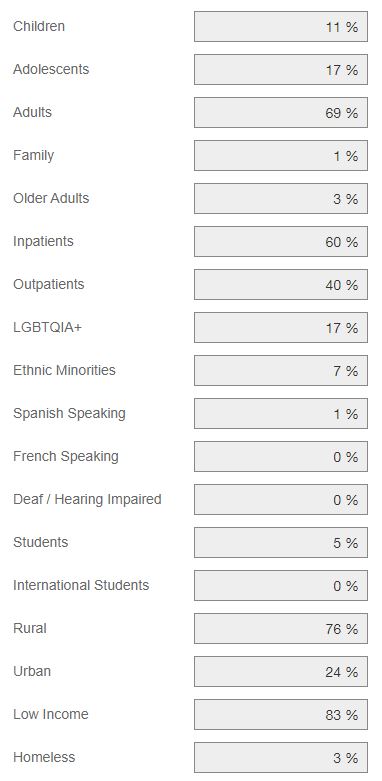 Our Supervisors
While we won't know your exact supervisor assignments until the internship starts, these are examples of some of the individuals you may work with over the course of your year at the site. 
Tenea Lowman, Psy.D.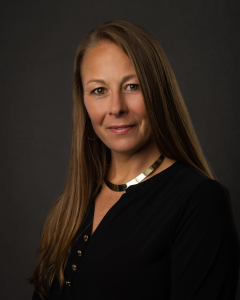 *Primary Supervisor for Royal Oaks Hospital, Windsor, Mo
Dr. Tenea Lowman is the Director of Psychology and Clinical Services at Royal Oaks Hospital.  She completed her Masters and Doctoral Degree in Clinical Psychology at the former Forest Institute of Professional Psychology in Springfield, Missouri, in 2005.  She then completed her internship and post-doctoral training with HAPTC at Royal Oaks and continued on as a full time Licensed Psychologist with the agency.  Dr. Lowman specializes in inpatient psychiatric behavioral health.  She has been supervising pre-doctoral interns and post-doctoral residents since 2006.
Jonathan Rosenboom, Psy.D.
*Primary Supervisor for Compass Health, Warrensburg, MO
Dr. Jonathan Rosenboom is a staff psychologist for the Warrensburg Compass Health site. He earned his M.S. in clinical psychology from Fort Hays State University in Hays, KS, and a Psy.D. in clinical psychology from Baylor University in Waco, TX. He interned at the VA Medical Center in Topeka, KS. He has provided clinical services and held clinical administrative positions in the MO Department of Mental Health and the MO Department of Corrections. After retiring from Missouri state service he joined Compass Health in 2010 as an outpatient psychologist. Dr. Rosenboom is a generalist psychologist serving adults and adolescents. He utilizes psychodynamic, interpersonal, and cognitive behavioral treatment strategies in individual psychotherapy services.
John Dandurand, PhD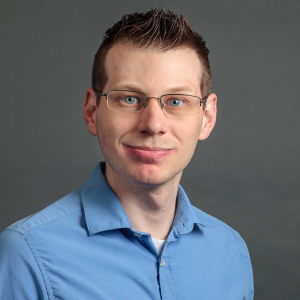 *Primary Supervisor for Compass Health, Butler, MO
Dr. Dandurand has been a licensed psychologist in Missouri since 2018.  He earned his degree from the California School of Professional Psychology (CSPP) at Alliant International University – Los Angeles in 2016.  While at CSPP he completed practica at the University of California, Los Angeles Semel Institute and at Aegis Treatment Centers, giving him varied experience in working with Autism Spectrum Disorder, Intellectual Disability, Substance Use Disorders, as well as a variety of frequently co-occurring disorders.  He completed his internship and post-doctoral residency at Pathways/Compass Health Network, where he continues to see a wide variety of clients in a rural mental healthcare setting.  Dr. Dandurand is primarily cognitive-behavioral in his theoretical orientation and draws significant influence from more behaviorally oriented approaches from his work as a Behavior Specialist while in graduate school.  He continues to appreciate the contributions of other theoretical approaches to the field. 
Dual Track with Compass Health and Royal Oaks
Butler is a small town located an hour south of Kansas City, with 9 city parks and a city lake. Many dual track interns choose to live in Clinton, MO. It's a mid-sized town located an hour southeast of Kansas City at the intersection of 4 MO highways. It is a tourist destination for outdoor sports, and has a small town atmosphere while being close to a bigger city.