Message from Dr. Siquilla Liebetrau
PLEASE NOTE: We wanted to clarify that since the creation of this video Bowen has grown into more counties and Dr. Hunter has taken over the role of Training Director. Dr. Liebetrau is still working with the internship program as one of the Primary Supervisors. However, the training experiences and approach described from this video are still accurate. Keep on the lookout for a new video!
Match #'s
228813 Traditional
228814 Grant (Bowen Health Clinic)
228815 Grant (Bowen Center / Parkview Pediatrics)
Traditional Internship positions available: 3
IHC Grant Funded positions available: 2
Number of Residency/Job Positions: Varies

Our Mission
We're the Hope.
As the largest Community Mental Health Center in Indiana, our mission is to strengthen our communities and to improve the health and well-being of those we are privileged to serve. We use evidence based practices that treat the whole person. Our team of board-certified psychiatrists and psychologists, highly trained and certified therapists, nurses, and case workers deliver comprehensive care and treatment for mental health conditions.
In order to accomplish this, it is our shared mission to interrupt (or at least lessen) the inter-generational transmission of toxic traumatic stress, positively impact the quality of life of those we serve, and provide professional, caring, cost-effective healthcare services.
About Our Site
The Otis R. Bowen Center for Human Services, Inc. (Bowen Center), is a private not-for-profit, comprehensive community behavioral health that now serves 21 counties of Northeast and North Central Indiana at several service locations. The Center employs approximately 1,300 staff members. Bowen Center has been accredited by the Joint Commission on Accreditation of Healthcare Organizations (JCAHO) since 1980. We provide a full continuum of services including acute inpatient care, residential/transitional services, community-based rehabilitation, medication-assisted treatment, and comprehensive outpatient services. During fiscal year 2018, Bowen Center served 24,558 individuals residing in 55 counties. Those served are predominantly rural and of low income.
You may view a copy of Bowen's 2019 annual report here.
Bowen Center has the largest cohort of licensed psychologists of any of Indiana's comprehensive community behavioral health centers. We have close, collaborative "first name" relationships with our schools, medical community, child protective services, courts, probation departments, and many other community stakeholders. We seek to be true to the mission of a comprehensive behavioral health system to serve the otherwise under-served, the disenfranchised among us who are very much in need of professional care but too often encounter many barriers to access. We are strengths-based, goal-directed, evidenced-based, trauma-informed, consumer-driven, and focused on improving our cultural competence so we can fulfill our responsibility to provide clients with quality care.
More information about Bowen can be found on our website and our YouTube page. You can also watch the interview with Dr. Hunter and NPTC from 9-26-19 here.
Training Opportunities
Bowen Center has four internship positions broken down into three different match numbers as described below.
• Bowen Center Traditional Positions (#228813) – 3 positions
• Bowen Health Clinic (#228814) – 1 position
• Bowen Center / Parkview Pediatrics (#228815) – 1 position
More information about the traditional internship positions can be found here: Traditional Internship Positions
More information about the IHC Grant Funded internship positions can be found here: IHC Grant Funded Positions
It should be noted that monthly didactic training is located at the Four County Counseling Center main office location in Logansport, Indiana. Depending on the office assignment, interns may be required to travel approximately 1-2 hours for monthly didactic training. Bowen does pay for a hotel room for each didactic training, including the orientation, and our training department will book it for the interns, so interns won't have any out-of-pocket expenses for the room. The only night that will be covered will be between the days of didactics. Bowen uses the Holiday Inn Express in Logansport.
Bowen Center will also reimburse the intern's mileage according to the IRS guidelines and the cost of meals during didactics as an added benefit. Bowen Center will reimburse interns for the cost of lunch (up to $15) each day, and if interns stay overnight in Logansport, Bowen Center will also reimburse the cost of dinner (up to $25) for only the night(s) of the hotel stay. Interns will need to keep their receipts for documentation of this.
Site Training Director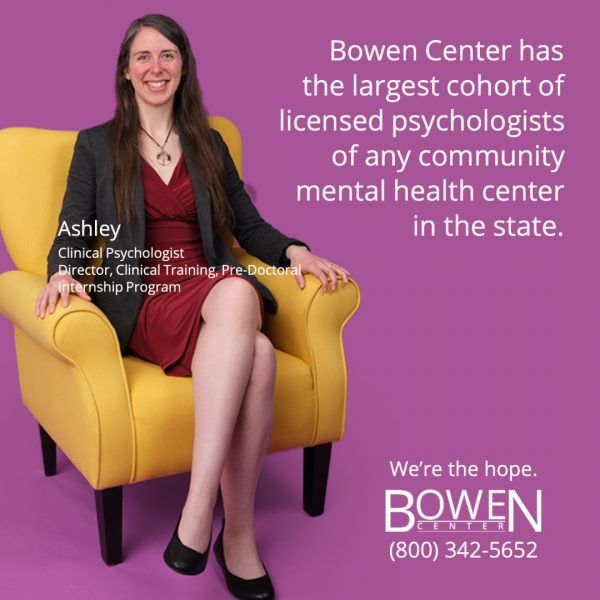 Dr. Hunter is the site Training Director for Bowen Center. She earned her doctorate in Clinical Psychology from The School of Professional Psychology at Forest Institute in 2015, completing her pre-doctoral internship at the Bowen Center through the National Psychology Training Consortium. She is currently licensed and endorsed as a Health Service Provider in Psychology in the state of Indiana. She is trained in trauma-informed therapies (e.g., TF-CBT, CPT), Cognitive Behavioral Therapy for Insomnia, Acceptance and Commitment Therapy, Dialectical Behavior Therapy, Brief Cognitive Behavior Therapy for Suicide, Eye Movement Desensitization and Reprocessing, and Hypnotherapy and is also very interested in positive psychology and its infusion into evidenced-based practices. She has also had assessment experience, including Parenting Risk Assessments for the Department of Child Services and the courts, and experience with various other assessments including intelligence testing, personality testing, diagnostic testing, autism testing, pre-surgical evaluations, and competence to stand trial evaluations. In her current position at the Bowen Center, she works with children, adolescents, adults, and older adults, practicing addiction treatment, psychological testing, and supervision of bachelor's level home-based and school-based service providers and master's level counseling staff. Her main research interest is volunteering. She serves as a core group member on Bowen's Diversity and Inclusion Steering Committee and on the Zero Suicide Committee. />
Salary, Benefits, and Support
Salary for the 2022-2023 Training Year:
Traditional Internship Positions: $28,352
Benefits provided at this site include:
112 hours of PTO (vacation / sick leave)
24 hours of Professional Development
Funeral Leave
Discounted health insurance
Vision insurance
Dental insurance
Short Term Disability
Life Insurance
Employee Wellness Program
Flexible Spending Account
Health Savings Account
Student Loan Repayment Program
Retirement – tax-deferred annuity
Employee Assistance Program
Fitness Reimbursement Program
Professional liability insurance (for those not already covered)
Leadership development programming
Bowen Center observes the following 9 holidays:
New Year's Day
Memorial Day
Independence Day
Labor Day
Thanksgiving Day
Friday after Thanksgiving
Christmas Eve
Christmas Day
New Year's Eve
Bowen Center provides interns with hotel, meal, and mileage reimbursement for their monthly didactic training in Logansport, Indiana. Interns also receive comprehensive clerical technical support. Every outpatient office has an office manager and client service personnel who are responsible for client check-in, assistance with scheduling, front desk collections, etc. Each office also has at least one administrative assistant who can assist with scoring most testing protocols and completing prior authorizations for clients to receive/continue to receive services; Health Information Management Specialist (HIMS); and housekeeping staff. We maintain a transcription department and phone-based dictation system and interns will be a part of the Electronic Medical Record system. Every consulting office where interns provide services has a networked computer terminal and access to a library of reference materials. Bowen also maintains a generous staff development budget, which provides interns the ability to request necessary educational and reference materials during the year.
Please note that available benefits and observed holidays are subject to change. Matched interns will receive full benefit orientations at their site which will go over all benefit information for the training year. More information about the Support and Benefits offered in each of our regions can be found here.
COVID-19 Response
Throughout the pandemic, Bowen has remained committed to patient and staff safety and well-being, including continued employment for staff and continuity of care for patients. Our interns at all locations will be able to continue to accrue internship hours, including patient contact hours, should further outbreaks/changes in the course of this pandemic create extended/additional situations to work remotely. Bowen is also upholding CDC recommendations for social distancing, use of PPE, etc. and adapting procedures and work flows to best protect everyone when in-person services are required.
Background Checks
The Bowen Center does complete background checks pre-internship and some are completed once an intern starts at the center. The background check requirements are dictated by the Department of Children Services (DCS) and by company policy. Below is a breakdown of what background checks will be completed.
National Criminal History Check (Initial Online Check and through Fingerprinting)– This check provides general information regarding misdemeanor or felony history. A County Criminal History Check may need to be conducted to get more details if negative criminal history comes back on the National Criminal History Check.
County Criminal History Check– This is conducted for every county the candidate has lived in during the past 5 years.
For both the National Criminal History and the County Criminal History Bowen Center initially looks to see if an intern has any misdemeanors in the last 7 years or felonies in the last 10 years. If they have been convicted with one of these charges within these time frames the results are given to the VP of Human Resources and the VP of Risk Management. They will evaluate the results on a case-by-case basis to determine if they are eligible to be hired. When the conviction was charged and the type of conviction will be factored into their decision. These results will also have to be reported to the Department of Children Services per their contract with them.
Indiana Child Protective Services (CPS) Check– If any record is found while conducting this check this information must be presented to our representative at DCS. They will make the determination if they can be cleared. This is determined on a case-by-case basis depending on the severity of the report and when it occurred.
Out of State CPS Check– Conducted in every state the candidate has lived in in the past 5 years. If any record is found, this information must be presented to our representative at DCS. They will make the determination if they can be cleared to serve our DCS clients. This is determined on a case-by-case basis depending on the severity of the report and when it occurred.
Motor Vehicle Record– Bowen Center guidelines for Motor Vehicle Record is no more than 2 speeding tickets in the past 3 years, no speeding tickets of 21 mph or more in the past 3 years, and no major moving violations in the past 5 years (reckless driving, OWI/DWI, etc.). This will not disqualify an intern for the position as long as the position does not require them to transport clients. A pre-doctoral intern would not be expected to transport clients so this would not disqualify them, BUT they would be required to sign a No Driving Form, which indicates that they cannot drive clients, Bowen Center vehicles, or drive during working hours as they will not be covered under the site liability insurance.
Again, please note that, if a negative criminal history is found, Bowen Center, as the employer, determines the eligibility of internship on a case-by-case basis depending on the severity of the charge and when the intern was convicted of the charge.
Although Bowen Center does not routinely require drug testing as a part of the employment process, if they have reason to believe that an intern/employee is under the influence of drugs or alcohol they may require a drug screen. If the person fails the drug screen, they typically place the individual on leave and require them to get a substance use assessment. They will then meet with the individual to evaluate if they can put accommodations in place in order for them to continue work.
Employees are also required to sign a health certification form, which certifies that the intern/employee is free of all communicable and/or contagious disease and free of medical, emotional, and addiction problems, which could significantly interfere with the performance of job responsibilities.
Intern Selection Process
When ranking and selecting interns for the Bowen Center, the primary criteria include (but are not limited to):
Receipt of a master's degree is required (not education-equivalent)
Experience and interest in working with folks across the lifespan
Experience and interest in working in a community mental health center (or similar fast-paced environment) and integrated primary healthcare doing intervention and assessment
Solid testing experience, including completion of multiple assessment and testing batteries (required, preferred if experience with children, adolescents, and adults)
Experience and desire to work with a low-income population, many of whom have co-occurring addiction, mental health, and medical issues
Interest in receiving a generalist internship experience
Ability to work as a member of an interdisciplinary team in a fast-based setting requiring flexibility
Any interviews conducted outside of the consortium-wide interview day can be completed via teleconference or on-site if it is not an undue hardship to travel. This site may be able to provide some financial assistance to support an on-site visit.
Bowen Center is willing to pay for all associated costs for testing and licensing in Indiana as a Mental Health Counselor for those applicants with enough post-Master's degree experience to qualify. For more information about this process see the page on Indiana licensing information here.
Interview Day Information
In order to reduce the travel expense associated with interviewing, all participating NPTC sites participate in a Universal Interview day in Springfield, Missouri. Interviews can also be arranged at other times and places, and Skype interviews are also possible. Please be aware that on-site tours are not a part of this interview process. However, some sites may approve a site tour at a later date if requested by the prospective intern. The ability or inability to attend a site tour at another time will not impact match rankings, and this is not an option available at all locations.