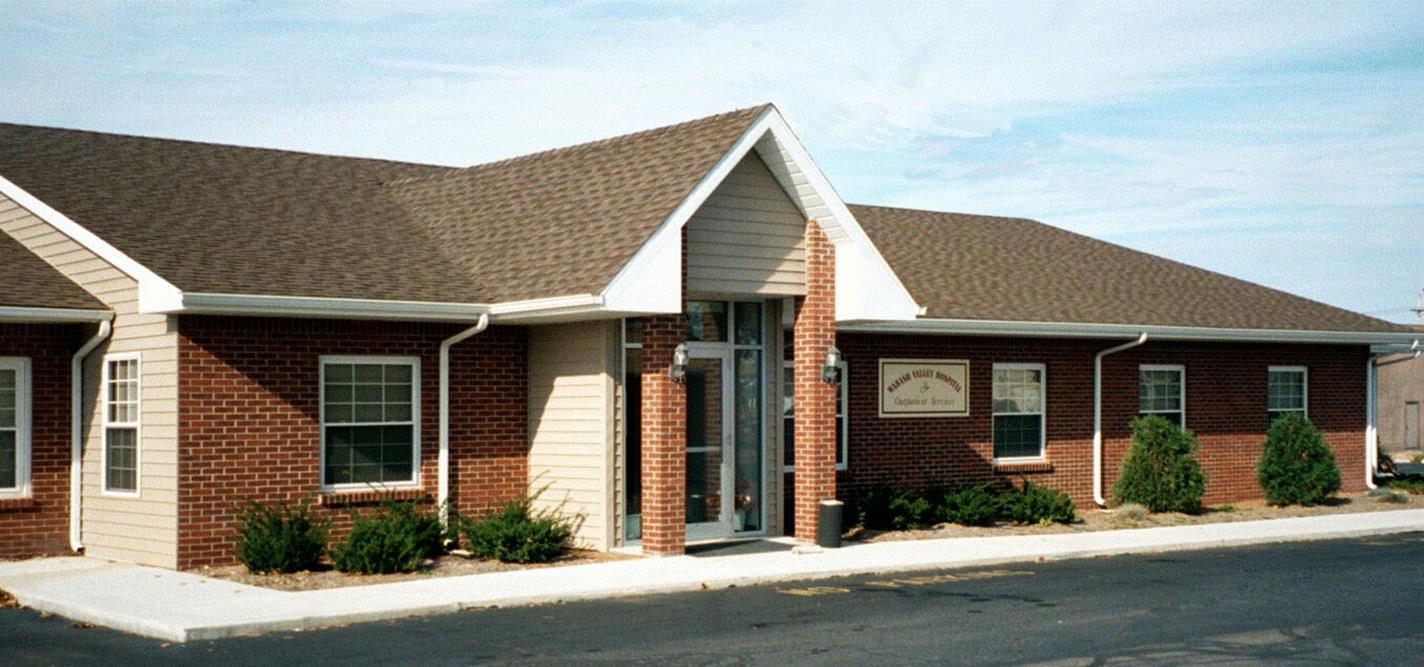 Match #'s
#228814 (Adult Track)
#228815 (Child Track)
#228823 (Generalist Track)
#228817 (Family HC – Grant Funded)
#228818 (Riggs CHC – Grant Funded)
Traditional Internship positions: 3
IHC Grant Funded positions: 2
Total Internship Positions: 5
Wabash Valley Alliance is excited to announce that they will be changing their name! Soon they will be listed as Valley Oaks Health. Please make note of this and check back for updates on when this change will occur.
Valley Oaks Health (previously Wabash Valley Alliance) is a community mental health center serving 10 mostly rural counties centered on Lafayette, IN. This site has 17 different locations where services are provided in 8 of the 10 counties served, including case management programs, group homes and supported living, and traditional outpatient office settings. The Lafayette / West Lafayette metropolitan area has a population of 172,000, making it the 6th most populous in Indiana. Lafayette is 1 hour from the state capital of Indianapolis and 2.5 hours from Chicago. As a community mental health center, Valley Oaks Health serves all parts of the community. They cover a large geographical area, with satellite offices in 8 different counties, most of which are rural and agrarian. In the 2015-2016 fiscal year Valley Oaks served 8200 clients and had over 22,000 client visits per month in their system. The top diagnoses treated are mood disorders, ADHD, anxiety disorders, adjustment disorders, substance abuse, and schizophrenia. Valley Oaks employs 12 psychologists, 7 of whom are involved in intern supervision.
Although the large majority of the area's population is white Americans of European heritage, the Lafayette area is the home of Purdue University, a Big Ten university with an international reputation. Purdue's presence enlivens the community and brings cultural diversity with cosmopolitan student body, representing 123 countries and from across the U.S.. Lafayette also has a diversified economy including both farming and manufacturing: Subaru, Caterpillar, General Electric, Alcoa, and Indiana University Health. There is a growing Hispanic population in the area as well.
There are many job opportunities for psychologists in Indiana. Valley Oaks Health is interested in attracting psychologists to work in Indiana and we are very open to the intern staying with Valley Oaks Health after the internship. Four of our first 7 interns hired on with Valley Oaks at the end of their internship, and we hired another intern who completed her internship with another NPTC site.
Valley Oaks Health has 5 positions: 3 traditional internship training experiences and 2 IHC Grant Funded internship training experiences, which are very different experiences.
A feature of Valley Oaks Health's traditional positions is that the traditional interns will work in 3 different settings and have supervision from at least 3 different psychologists during the year. Interns within the Traditional internship experiences will have choices of three different tracks (Adult, Child/Adolescent, and Generalist) and all interns will have rotations through different outpatient experiences throughout the year to provide a wide variety of training opportunities.
More detailed information about the traditional internship experiences with Valley Oaks Health can be found here: Traditional Internship Positions.
Valley Oaks Health has also partnered with two FQHC's to provide integrated health care internship experiences as a part of a HRSA BHWET grant. The integrated heathcare internship will be very different from the traditional. Each integrated intern will be full-time at one of two FQHCs and receive additional didactic training in topics related to integrated health care.
More detailed information about the IHC Grant Funded internship experiences with Valley Oaks Health can be found here: IHC Grant Funded Positions.
It should be noted that office locations for Valley Oaks Health range from 45 minutes to 1.5 hours from Logansport, Indiana where interns must travel for monthly didactic training.
In addition to the information provided on this page, you can watch the recording of the September 25th Training Director's Panel below for additional information about this site.
Our Mission
The mission of Wabash Valley Alliance is to provide quality behavioral health and addictions care based on the needs of the communities we serve.
Site Training Director
Brian Primeau, Ph.D. (outgoing)
Brian E. Primeau, Ph.D., HSPP is a 1978 graduate of the clinical psychology program at University of North Carolina at Chapel Hill and completed his internship at the Indiana University School of Medicine in Indianapolis. He has worked in community mental health for Wabash Valley Alliance or River Bend Hospital for his entire career. He was an outpatient therapist in Lafayette for 7 years and has been the inpatient psychologist and then Inpatient Program Director at River Bend Hospital since 1986. He practices Rational-Emotive Therapy and teaches a cognitive therapy class for inpatients. Dr. Primeau will be retiring on February 15, 2019 after 40 years of work for Wabash Valley and River Bend Hospital.
Primary Supervisors
Dale Crowder, Ph.D.
Dr. Crowder is the Main Primary supervisor for the Adult Track. He received his Master of Arts from Southern Illinois University in Edwardsville, Illinois and his Doctorate from the University of Kentucky in Lexington Kentucky. He completed his APA approved doctoral internship at the Federal Medical Center in Lexington, Kentucky with a focus on completing forensic evaluations for the Federal Court system. Dr. Crowder has experience working with adults in outpatient, residential, transitional care, community mental health, and inpatient settings. He has experience working with children and adolescents in outpatient settings. He has worked for Wabash Valley Alliance since 1999 and serves as the Branch Director for the WVA outpatient clinic in Crawfordsville, Indiana. As Branch Director, Dr. Crowder oversees the operation of the clinic and provides clinical and administrative supervision for therapists, psychology interns and case manager team leaders. His clinical interest include individual and group therapy, addictions therapy and working with the severely mentally ill. Dr. Crowder has served as a board member for the A.H.E.A.D. Coalition which is the local coordinating council for the Governor's Commission for a Drug-Free Indiana, is a member of the County Crisis Team and served on the Region 9 Child Fatality Review Team. He is a Licensed Psychologist and Licensed Clinical Addictions Counselor in the state of Indiana.
Pamela McCombs, Psy.D.
Dr. McCombs is the Main Primary supervisor for the Child/Adolescent Track. She received her doctorate in Clinical Psychology in 2015 from the Illinois School of Professional Psychology in Chicago. Dr. McCombs completed her APA-accredited internship with Wabash Valley and NPTC before becoming Director of the Community Living Program for Children and Adolescents at Wabash Valley Alliance. As Director, Dr. McCombs oversees the treatment of children and young adults ages 0-22 and supervises therapists, interns, and case management team leaders. She specializes in working with children and has an interest in the areas of family systems and issues of diversity. Dr. McCombs currently serves on the Tippecanoe County Child Protective Team. Her dissertation research looked at the effects of infidelity on the marriages of African American couples.
James Toth, Psy.D.
Dr. Toth is the Main Primary supervisor for the Generalist Track. Dr. Toth received his doctorate in clinical psychology at Spalding University in 1999. He completed his APA-accredited doctoral internship at Tri-City Community Mental Health where he specialized in child / adolescent services and received extensive training in both inpatient and outpatient addiction treatment programs. He has worked in private and community health settings providing individual / family / group treatment modalities as well as in-home community-based programs. He currently provides supervision to graduate students and outpatient psychotherapists. He is an adjunct faculty member with Purdue University and Ivy Tech State College. His clinical interests include addiction treatment for adolescents, trauma therapy, and mindfulness treatment approaches. His theoretical orientation is primarily cognitive-behavioral with an integrated humanistic style in providing mental health care.
Stephanie Rose, Ph.D.
Dr. Rose is the Main Primary supervisor for interns in the IHC Tracks. She received her doctorate in Counseling Psychology from Purdue University. Her research emphases include grief and loss, and multicultural issues. On internship, she specialized in older adult issues and dementia / Alzheimer's and worked in integrated health care. She has primarily worked in community mental health settings. She sees a diverse range of patients, including adults, adolescents, and children. She currently conducts individual therapy, family/couples therapy, and addiction groups.
Monique Kulkarni, Ph.D.
Dr. Kulkarni received her doctorate in counseling psychology from the University of Texas at Austin in 2012. She completed her APA-accredited doctoral internship at the University of California, Berkeley. She has worked at WVA since 2013 and is currently Director of the Community Living Program for Children and Adolescents at Wabash Valley Alliance. She has specialized training/experience in treating anxiety disorders, working with transgender individuals, developing therapy groups, Child-Parent Psychotherapy, and Reactive Attachment Disorder. She also has a special interest in issues of diversity, identity development, transitions for early career psychologists, stress and coping, religious coping, intersecting identities, and South Asian identity/experience. She has previously taught a graduate level course on multicultural counseling and is heavily involved in the American Psychological Association and the Asian American Psychological Association. She also serves on the Juvenile Detention Alternatives Initiative committee for Tippecanoe County. Her therapeutic style blends an empathic, collaborative approach with interpersonal and cognitive-behavioral perspectives.
Cathy Streifel, Ph.D.
Dr. Streifel received her doctorate in Counseling Psychology from Purdue University in 2009. She completed her APA-accredited doctoral internship at the Indiana University Counseling Center. She has worked in university counseling centers, community mental health, and the state hospital system. She has worked at Wabash Valley Alliance since 2011. She is currently a Staff Psychologist and Clinical Supervisor at the Lafayette outpatient office of Wabash Valley Alliance. She is a generalist who has worked with all age groups and a multitude of presenting disorders. She has specialized training in grief and loss. She also has special interests in substance abuse, identity development, issues of diversity, and anxiety disorders. She utilizes a therapeutic style that includes a combination of interpersonal, humanistic, and cognitive-behavioral perspectives. She is active in the community, currently serving as the Chair of the Tippecanoe County Drug Free Coalition, serves on the Board of Directors for the SURF Center (a recovery center for individuals recovering from addictions), and is a member of a group that goes into the County Jail to speak to inmates about recovery from alcoholism and drug addiction. She has also served on the Board of Directors for the Home with Hope, a halfway house for recovering individuals, and Volunteers in Probation, a program aimed at providing probationers with mentors in the community.
Salary and Benefits
Salary for the 2019-2020 Training Year:
Traditional Internship Positions: $25,001.60
IHC Grant Funded Positions: $28,352
Benefits provided at this site include:
112 hours of PTO (vacation / sick leave)
24 hours of Professional Development
Discounted health insurance
Vision insurance
Dental insurance
Short/Long Term Disability
Life Insurance
Professional liability insurance (for those not already covered)
Valley Oaks Health observes the following 7 holidays:
New Year's Day
Memorial Day
Independence Day
Labor Day
Thanksgiving Day
Christmas Day
Personal Holiday
More information about the Support and Benefits offered in each of our regions can be found here.
Background Checks
Valley Oaks Health does conduct background checks on interns prior to orientation. This site is contracted with DCS of Indiana and DCS requires background checks for all counties and states the intern has lived in for the past 5 years. Please note that having a criminal history does not always have a negative impact on the applicant's eligibility for an internship. However, if an applicant has a CPS substantiation in any state they have lived in then they are not eligible for internship and that would cause the site to release the intern from a match. A substantiation is when the State's DCS/CPS feel the person in question has knowingly put a child at risk, such as a DUI with a minor in the car, having altercations in front of child, charges or suspicion of child abuse/neglect, etc. If the applicant feels the substantiation is invalid they can follow up and attempt to clear the substantiation from their record.
DCS also requires a fingerprint and drug screen on each matched intern. A positive drug screen would also cause the site to release the intern from a match. The site is required to list any criminal history reported by the applicant when scheduling the fingerprint appointment. Once the prints are taken they go to the Indiana state police and then they are forwarded to DCS for final approval.  DCS will follow up with the listed criminal history (if applicable) and then make a decision. Prints can come back 1 of 3 ways:
1 – Qualified
2 – Conditionally Disqualified
3 – Disqualified
A fingerprint report returning as "Disqualified" would be cause for the site to release an intern from a match.  If the prints come back Conditionally Disqualified, the intern will need to contact DCS and supply them with any additional info or documents they need to make the prints "Qualified" (this info could also prove them to be Disqualified). If the intern does not take care of this, they would also be released from the match. DCS typically allows up to 3 misdemeanors, but will disqualify anyone with a felony.
Intern Selection Process
We want our interns to come from strong clinical or counseling programs and to have an interest in the community mental health setting as a career goal. Interns must be willing to work with a variety of clients from all SES levels and many different diagnoses. They must be willing to work within a system which expects clear documentation in a problem-oriented treatment model. Although assessment is a core competency of the internship program, it should be noted that psychological testing is not a major experience for these internship positions.
Applicants will be screened by the training director and primary supervisors, interviewed by the training director, and selected by the training director and primary supervisors. Interviews can be face-to-face or telephone or Skype / Facetime interviews. Receipt of a Master's degree (rather than education equivalent) is required at this site. Preference will be given to students who envision practicing in Indiana for their career. We hope that a proportion of interns will decide to pursue employment with Wabash Valley Alliance after attaining their doctorate.
IHC Grant-Funded Positions Only: Due to the requirements of the HRSA grant, any intern applicants for the IHC-Grant Funded positions must be citizens of the United States, a noncitizen national of the United States, or a foreign national who possesses a visa permitting permanent residence in the United States. Individuals on temporary or student visas are not eligible to participate. Please note that this requirement only applies to the Grant-Funded positions and not the traditional positions available at each of our sites. If you have any questions about eligibility for the program please contact Katherine Dixon at kdixon@psychologyinterns.org.
As a part of this grant, Interns are also required to sign an agreement that they will seek out job positions in rural and/or underserved areas following graduation. An example of this agreement is linked here.
Interview Day
In order to reduce the travel expense associated with interviewing, all participating NPTC sites participate in a Universal Interview day in Springfield, Missouri. Interviews can also be arranged at other times and places and Skype interviews are also possible. Please be aware that on-site tours are not a part of this interview process. However, some sites may approve a site tour at a later date if requested by prospective intern. The ability or inability to attend a site tour at another time will not impact match rankings and this is not an option available at all locations.