Match# 192519
(Grant Funded – Compass Health IHC – Wentzville)
(Grant Funded – Compass Health IHC – Columbia)
(Grant Funded – Compass Health IHC – Nevada/Butler)
Intern Positions: 5
About These Rotations
The ABOUT Missouri project is a Primary Care Psychology Training & Workforce Solution for Missouri. This initiative by the National Psychology Training Consortium (NPTC) has goals to increase: Access to Behavioral Health services that are Original and occur in Underserved communities by Trainees in Missouri. The overall goal of this project is to establish a viable long-term and sustainable behavioral health workforce solution for rural/underserved counties in Missouri via doctoral psychology internships. This project is a continuation of the original ABOUT Indiana grant, both of which are funded by the Behavioral Health Workforce Education and Training Program (BHWET). The Project establishes sustainable training placements of doctoral psychology interns in underserved primary care settings. This Project will place ten (10) new full-time doctoral psychology interns each year of the grant, serving 40 participants during the entire project period. These interns will be placed full-time at primary and experiential partner sites where they will integrate with physicians, nurses, and other healthcare professionals while providing behavioral health services. The integrated care training experiences offered at the partnering agencies include FQHCs and medical centers that provide training and experience in integrated care for many fields including psychology, psychiatry, and social work.
ABOUT Missouri builds on a robust APA-Accredited internship consortium Project, which is administered by NPTC, a 501 (c) (3) non-profit entity that specializes in rural and underserved workforce development for doctoral psychology interns. The Project adopts the Plan-Do-Study-Act (PDSA) model of Rapid Cycle Quality Improvement (RCQI) and utilizes monthly, quarterly, and yearly data to improve all aspects of the Project. This Project will be carried out by NPTC in conjunction with two primary partners that function as Community Care Behavioral Health Organizations (CCBHO) in rural Missouri counties and additional experiential partners such as Federally Qualified Health Centers (FQHCs) and medical clinics.
Compass Health is operating as one of the two primary partners of this project and operates its own Federally Qualified Health Centers where IHC interns will provide services. These integrated health care interns will provide services in one of three IHC tracks (based on office location) and each will specialize in working as part of a team including physicians, nurse practitioners, dentists, nurses, social workers, and community health workers. The emphasis will be not on merely practicing psychology within the same clinic, but in helping the team treat the whole person, addressing the behavioral interventions that can augment medical care. The emphasis will be on short-term assessment and therapy, crisis intervention, and psychoeducation. In addition to the weekly virtual didactic training that other interns receive, these interns will have an extra day per month of training specific to integrated health care.
Interns as a part of the IHC Grant-Funded experience will also be sent to a regional integrated health care conference free of charge. More information about the conference and this experience will be provided closer to the event.
Due to the requirements of the HRSA grant, any intern applicants for the IHC-Grant Funded positions must be citizens of the United States, a noncitizen national of the United States, or a foreign national who possesses a visa permitting permanent residence in the United States. Individuals on temporary or student visas are not eligible to participate. Please note that this requirement only applies to the Grant-Funded positions and not the traditional positions available at each of our sites. If you have any questions about eligibility for the program please contact Katherine Dixon at kdixon@psychologyinterns.org.
Training Opportunities
Application to the Grant-Funded IHC Track with Compass Health may result in placement at a number of offices, with precise placement to be determined following the APPIC Match. These locations include Columbia, MO; Wentzville, MO; and a joint placement in Clinton, MO and Butler, MO. Monthly didactics with a focus on integrated care will also be provided.
Behavioral health consultation is the primary experience of this track across office locations, with psychological assessment as a minor experience. Multiple locations may include work with dental patients in addition to primary care. Interns will provide behavioral health care to patients in the areas of behavior change and health management in addition to mental health concerns. Interventions are expected to be brief and focused, targeting manageable short-term goals and collaboration with other health providers. Interns are likely to be placed in an integrated setting for administrative as well as clinical work to enhance this collaborative process, with access to a laptop, internet, printer, and other necessary items. Regular interaction with primary care, dental, nursing, and psychiatric staff is expected with some variation of other disciplines by office, as well as additional didactics related specifically to integrated health training. Triage experience may also be available.
Psychology interns at Compass Health sites utilize both hands-on training as well as web-based training programs. The agency offers a full training library of web-based programs for the interns and staff to access as they are able based on their licenses/interests. Required supplies for psychological assessment and any other training activities will be provided.
Rotation Schedule
Interns at all Compass Health tracks will generally work a Monday – Friday schedule from 8:00 am – 5:00 pm each day. No weekend work or after-hours on-call is required. Weekly schedules for a joint placement will be provided prior to intern arrival. Day-to-day schedules will vary based upon consulting provider need, with intern preferences taken into account.
Placement Locations
Wentzville Position – Interns at this location will spend all their time in the office at the Wentzville office listed below. Wentzville is located only 40 minutes west of St. Louis, Missouri, which offers many opportunities for entertainment and activities. However, it should be noted that Wentzville is approximately 3.5 hours from Springfield, MO and 1.5 hours from Columbia and Jefferson City, MO where interns must travel to quarterly in-person didactics (plus orientation).
Columbia Position – Interns at this location will spend all their time in one or more of the Columbia offices listed below. Some quarterly in-person didactics will be held in Columbia, MO. However, it should be noted that Columbia is approximately 3 hours from Springfield, Missouri, where interns must travel to other in-person didactics (plus orientation).
Butler/Clinton Position – The intern in this joint placement will spend 3 days per week in one office and 2 days per week in the other, with specifics to be decided closer to the internship start date. It should be noted that Butler/Clinton are approximately 1.5 – 2.5 hours from the quarterly in-person didactic training locations.
Interns at all locations will be provided reimbursement considerations for each of these trainings including mileage, lodging reimbursement may depend upon the intern's home office location.
Select "Grant Funded" in the map filter below to show only the locations specific to this track.
Title
Address
Description
Link
APPIC Training Experiences
Treatment Modalities
Example treatment modalities (as listed by APPIC):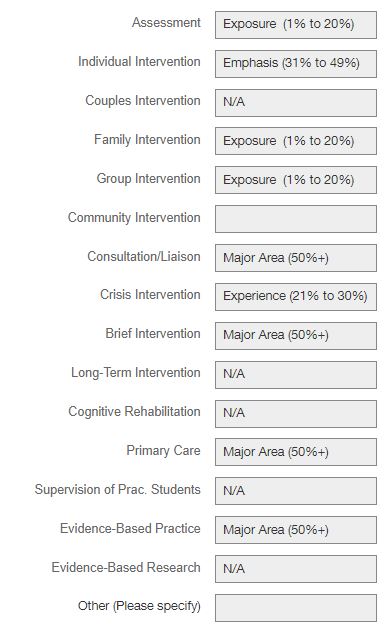 Supervised Experiences
IHC interns will work within the PCBH model as generalists and educators, providing accessible, team-based, and routine behavioral health services. This is done using short, focused visits to assist clients with specific symptoms of functional impairment within a shorter course of care. Communication within the treatment team regarding patient care occurs frequently throughout the day and during meetings/huddles. The focus of behavioral health in this placement is not exclusively on mental health, but includes a broader range of problems traditionally considered to be medical, such as diabetes or asthma. With an understanding of the behavioral basis of medical problems, IHC interns assist clients with a broad range of psychosocial concerns and have a significant impact on whole-person care. Psychological assessment is also a requirement of this placement, though is less emphasized than intervention. Please note the supervised experiences listed below may vary based upon the specific office placement.
Example supervised experiences (as listed by APPIC):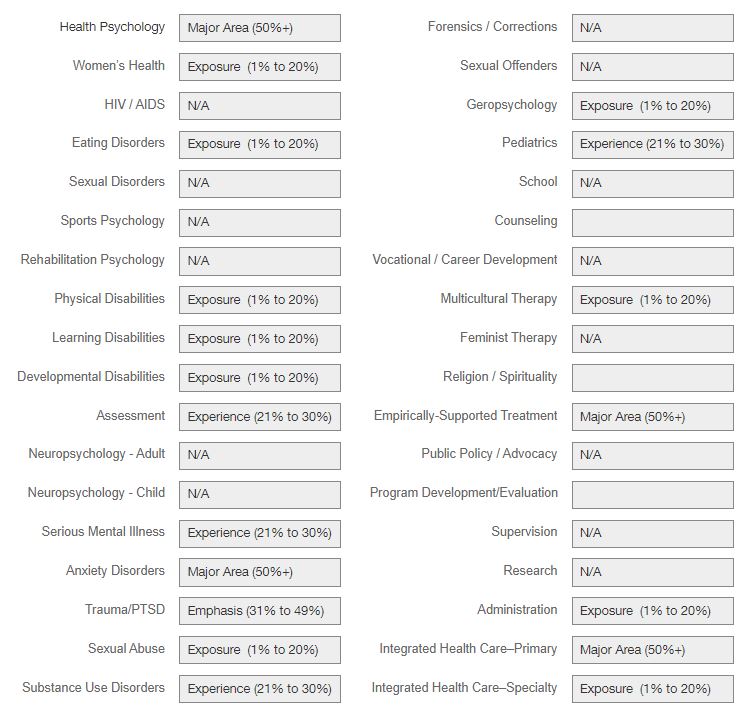 Patient Populations
Most Compass Health clients are Caucasian, chronically mentally ill, and/or lower SES, though our larger offices do serve a diverse range of ethnic groups with higher levels of education and SES. Clients face a variety of treatment barriers, such as transportation, cost, and childcare. We see clients across the lifespan.
Client populations as shown below are broadly similar, though there will be variation based on the specific clinic the intern is placed in.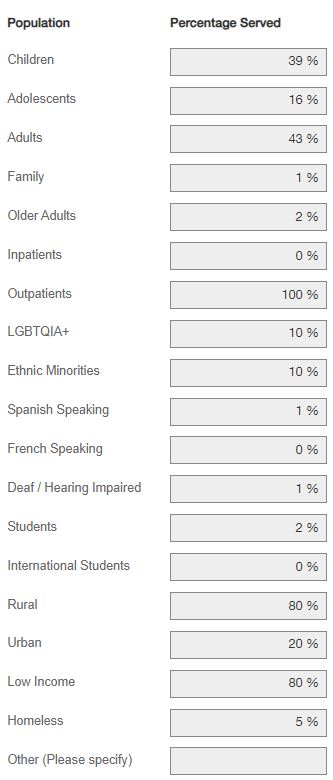 Compass Health: IHC Grant Funded
Columbia 
Columbia is a town of about 110,000 (plus the University of Missouri student population). It is about a 30 min drive to Jefferson City (the state capital) and a 2 hour drive to either St. Louis or Kansas City, conveniently located off of Interstate 70.
There are several nice apartment complexes and houses for rent in the Southwest area of Columbia. Kelly complexes are highly recommended: Kelly Ridge, Kelly Farms, and Kelly Highlands. This is also a great area for schools. Suggested living areas are south of Stadium Boulevard and west of Providence Road (southwest of MU); otherwise, commute times will increase significantly. There is a public bus system, as well as Uber and Lyft, but it would be very difficult to live in Columbia without a car.
Wentzville 
Many interns choose to live in St. Charles, which is a mid-way point between the Wentzville area and the city. There is much to do in the St. Charles downtown area. It is advised to avoid living in St. Louis, as the cost of living is higher there along with the crime rate. A great, cost-effective area interns have lived in the past, is Creve Coeur. Interns have chosen to live in Brentwood, though it is further from the office, it is a good mid-way point between St. Louis City and St. Louis County.
Clinton/Butler
Clinton, Missouri is located at the intersection of three Missouri highways, an hour southeast of Kanas City and about 1.5 hours north of Springfield. It is a common tourist destination due to its location on Truman Lake and offering of outdoor sports like boating, hunting, and fishing, as well as being a trailhead for the Katy Trail. Clinton is also home to Missouri's largest Historic Downtown Square, full of unique shops, a historical museum, and the Henry County Courthouse, which was built in 1893. Fun activities are hosted throughout the year, including Olde Glory Days, Missouri's biggest 4th of July festival.
Butler, MO is a city of approximately 4,000 people located approximately 50 miles south of Kansas City, MO on Route 71-Interstate 49. Weather includes all 4 seasons, with average lows below freezing in January, snow December through February, and highs of 90 degrees in July. Restaurants unique to Butler include El Charro, Flaming Lantern, Koehn Bakery, New China Buffet, and The Alley Tavern.